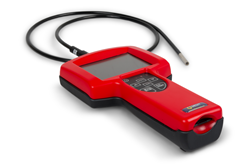 "A new and improved version of Orion II video borescope - now with better camera chip and display resolution, grid, mirror and zoom functions."
Winnipeg, MB, Canada (PRWEB) December 24, 2014
Medit Inc., one of the leaders among online suppliers of NDT equipment and accessories in North America, is pleased to introduce a new viewing device available for purchase online – the ORION Video Borescope.
The new handheld camera from Medit Inc. is a unique combination of precision, portability and affordability. The camera is ideal for a wide range of applications, especially the ones where operators have to work in limited spaces. Its light weight, compact size, ergonomic design and battery-powered operation drastically increase inspection efficiency and decrease operator's fatigue.
The handheld ORION Video Borescope is equipped with a sensitive, high-resolution CMOS video camera chip (up to 60 fps) that captures even the tiniest defect and transports the image to the integrated 3.5" color digital LCD. The resolution of the screen has been significantly enhanced to 720*640-pixels. Operators can either record videos of inspections or capture snapshots of a particular area of interest. Powerful, long-lasting, eco-friendly LED lights with variable light intensity provides bright homogenous illumination even in areas with extremely poor or no lighting. The light intensity can be manually adjusted to avoid glare when inspecting shiny surfaces. The camera also features powerful zoom, grid and mirror functions that have been added in response to clients' demands.
All captured images and videos can either be saved to a 4G SD memory card, downloaded to a computer through USB interface or transferred to an external monitor via video output. The device features a unique design that allows operators to insert and retrieve memory card without having to open and close the cover.
The ORION Video Borescope works with interchangeable probes of variable diameters (4mm to 10 mm), lengths (1m to 30 meters) and directions of view. All probes have extremely high resolution comparable to that of a professional device: 4mm probes – 100,000 pixels, 5.5mm – 450,000 pixels. They are made extra durable and water-, oil-, diesel-, gasoline- proof (IP 57). The probes can be used with optional mirrors allowing to view inspection areas at different angles (70, 90 and 110 degrees).
The camera runs on a rechargeable LI-polymer battery, which enables users to perform inspections up to 4 hours in length, and needs only 2 hours to recharge.
The ORION Video Borescope is an all-in-one package for anyone who is looking for a compact, handheld, high-performance device.