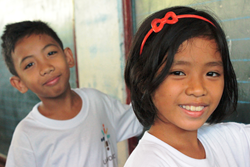 Unbound is not about the money. We are doing something and they are there to help us.
Kansas City, KS (PRWEB) December 30, 2014
Many wonder if child sponsorship programs work. The international nonprofit Unbound has been implementing methods to measure and evaluate its programs, their impact and how they can improve.
The results are encouraging.
Unbound evaluation specialists Melissa Velazquez and Becky Spachek conducted Ripple-Effect Mapping with more than 80 program alumni in the Metro Manila area of the Philippines. REM is a participatory and qualitative evaluation method used to learn the intended and unintended results of the program.
"There are many ways that we see sponsorship supports children and families living in poverty during their time in the program," said Velazquez. "But we wanted to take a long view. We wanted to hear from program alumni three, five or 10 years out of the program, how their lives continue to experience sponsorship's impact."

Education: Opportunity for education was the most widely identified and the most far-reaching outcome of sponsorship cited by alumni of programs in Unbound's Quezon and Antipolo projects. The former participants reported feeling that a good education gave them something of value that could not be taken away from them. Education opens up job opportunities and leads to the ability to provide for one's self and family. Through education, alumni have been able to help take care of their parents, invest in the educations of their siblings, and even indulge in luxury items such as electronics and the occasional caramel macchiato.
Work ethic and a moral compass: This also rated as a crucial benefit. Participants felt strongly that their success thus far in life is tied to what they learned in the program. The skill and talent development, plus the nature of a program that requires beneficiaries to participate, created a sense of confidence and responsibility, while also encouraging character development and accountability. Participants reported they have the tools to handle personal and ethical challenges in the workplace because of what they learned during their years in the program.
Leadership, sense of service and confidence: Unbound alumni reported the ability to work with diverse groups, resolve conflicts and demonstrate responsibility as a result of their time with Unbound. Many described the concept of giving back to community outside of family as something they learned through the program. The former sponsored children did not see the financial and social assistance as something to be ashamed of; rather participation in Unbound was seen as a mark of leadership qualities, helpful on a resume or in a job interview.
Evaluation participants reported employment as teachers, nurses, architectural designers, call center representatives and accountants, with more than 82 percent reporting full-time, salaried employment. The average length of time spent in the program was 9.2 years.
"We are excited about the outcomes we saw in the Philippines," said Spachek. "They demonstrate the best of what sponsored young people can achieve with Unbound. These results emphasize how Unbound can come alongside the leadership and initiative of the participants to transform communities."
As one program alum put it, "Unbound is not about the money. We are doing something and they are there to help us."
Unbound is the largest nonprofit in Kansas with more than $120 million in annual revenue. Unbound works directly with more than 325,000 children, families and elders in 21 developing countries as they confront the challenges of poverty and work toward better lives.
Unbound distributes direct aid as quickly and efficiently as possible to people who need it. More than 93 percent of all the money Unbound spends goes to program support.