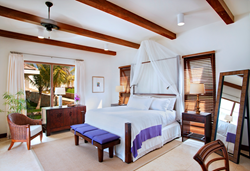 Houston, Texas (PRWEB) December 24, 2014
Las Verandas Hotel and Villas at Pristine Bay, an exclusive luxury resort, golf, and residential community on the tropical Caribbean island of Roatán, has added eight new King Bedrooms and a Four Bedroom Beachfront Villa to its existing offerings of luxury rooms, suites and freestanding villas.
"We are excited as we continually expand our resort and offer more accommodation choices to guests," says Bill Sharman, chairman of Destination Resorts, Ltd. "The new rooms are designed to make guests feel like royalty the moment they set foot on our property. With these new additions, we are one step closer to ultimately offering guests 60 luxury rooms and suites along with 32 free-standing villas in an incomparable setting."
The interiors of the new rooms are an extension of the Caribbean with high, whitewashed walls, ceilings with stained teak wooden trusses, travertine marble bathrooms, upscale kitchenettes, private stone verandas partly shaded by pergolas with ocean and golf course views, French doors, and custom designed furnishings & art. Guests staying in these new rooms will enjoy access to a private 1,000-foot crescent-shaped white beach, large two-tiered infinity pool including waterfalls, two specialty restaurants and bars offering Caribbean/Americas fusion cuisine, a private function room with terrace overlooking the Caribbean, and a championship golf course designed by legendary father-son duo Pete and Perry Dye, The Black Pearl.
Las Verandas Hotel & Villas bask in the natural beauty of Roatán surrounded by rainforest-covered hills, white sand beaches, crystal blue waters, and glowing sunsets. The resort rests on the North Shore with the Mesoamerican Reef just beyond, creating a playground where guests can enjoy diving, snorkeling, kayaking, and fishing from deep sea marlin, wahoo, tuna, and sailfish to a vibrant array of reef species including snapper, grouper, amber jack, as well as bone and permit in the exotic flats. Or, guests can simply relax on the beach or around one of the infinity edge pools overlooking the reef. Las Verandas is only 15 minutes from the Roatan International Airport served by United, American and Delta with non-stop flights.
For more information on Las Verandas Hotel & Villas, please visit http://www.las-verandas.com.
ABOUT LAS VERANDAS HOTEL AND VILLAS
Located on the lush, tropical island of Roatán, 35 miles off the coast of Honduras, Las Verandas Hotel & Villas is the only premiere, luxury resort, spa and private villa complex on the island. The hotel will ultimately feature 60 luxury rooms and suites, along with 32 freestanding villas with their own infinity pools available for purchase offering unobstructed views of the beach and the Caribbean. Guests have access to a private 1,000-foot crescent-shaped white beach, a large two-tiered infinity pool, two specialty restaurants and bars offering Caribbean/Americas fusion cuisine, and a private function room with a terrace overlooking the Caribbean. Adjacent to the resort is The Black Pearl, a championship golf course designed by legendary father-son duo Pete and Perry Dye. For more information on Las Verandas Hotel & Villas, please visit http://www.las-verandas.com