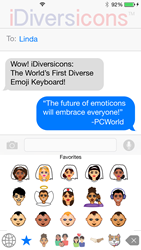 "A Houston woman has created a whole new world of emoji for the 21st Century." – TexasMonthly
League City, Texas (PRWEB) December 31, 2014
iDiversicons, the world's first diverse emoji, has evolved into a new seamless iPhone and iPad keyboard with unlimited capabilities and user benefits.
As a pioneer for diversity and inclusion, iDiversicons' revolutionary new iPhone and iPad keyboard features truly diverse emoji, satisfying a void that current emoji lack and what the public, media and world has been asking for: "more faces of color."
There are over 900 iDiversicons to choose from, including an unmatched five different skin tones. After all, life is more than one color.
--The iDiversicons' keyboard is fluid, seamless and very easy to use.
--All diverse emoji are contained in the keyboard like a font.
--Emoji can instantly be made larger for easier viewing and selection purposes.
--There is no limitation in the number of iDiversicons you can select and send at one time.
iDiversicons' emoji encompass various races, biracial and gender equality, religion, animals, holidays, sports, mascots, fraternities, sororities and many other groups. Because one face definitely does not fit all.
What's New in Version 1.0
Have added a new "Favorite" screen that will save up to 30 recently used iDiversicons emoji for easier re-use. No need to scroll back through the entire list.
Other new benefits include the ability to save to photo for social media, portrait or landscape view and usage, and the user may now copy to enlarge the emoji.
Here is what the media is saying about iDiversicons
"The future of emoticons will embrace everyone." – PCWorld
"The one-woman mission to diversify emoji." – The Daily Dot
"The emojis you've been waiting for already exist." – SEVENTEEN
"A Houston woman has created a whole new world of emoji for the 21st Century." – TexasMonthly
"Former NASA employee launches Diverse Emoji App." – Black Enterprise
"LC woman's company creates emojis for everyone." – Galveston County Daily News
"Mom's new line of diverse emoticons includes same sex couples, brown faces." – Houston Chronicle
About iDiversicons Founders
For Katrina Parrott, the road to becoming one of the most innovative Native App Developers began in an unlikely place: NASA JSC, where she managed their Logistics Contract. And for Katy Parrott, it began as a Public Health pre-med student at The University of Texas in Austin. But when the two of them discovered that there was a huge unmet demand for more diverse emoji, they went on to assemble an experienced programmer, artist, and video team to bring their unique vision for iDiversicons to life.
Katrina is a Washington DC native who lives in League City, Texas. She majored in Business Administration with a concentration in Procurement Acquisition at American University. And Katy is a Houston native and currently in her final year at UT Austin.
How To Learn More About iDiversicons
For more information about iDiversicons, The World's First Diverse Emoji Keyboard, please send an email to Katrina Parrott at katrina(at)idiversicons(dot)com.
App Name: iDiversicons. The World's First Diverse Emoji Keyboard.
Developer: Cub Club Investment, LLC
Version 1.0 Launch Date: December 20, 2014
Cost: $1.99 Version 1.0
Category: Utilities
App type: Mobile App
Platforms: iOS 8.1 or later
App Store Link: https://itunes.apple.com/us/app/idiversicons.-worlds-first/id947572946?mt=8
Android Version
Launched in the Google Play Store on June 25, 2014
https://play.google.com/store/apps/details?id=com.wwc.cci
Launched in the Amazon App Store on December 20, 2014
http://www.amazon.com/iDiversicons-The-First-Diverse-Emoji/dp/B00RCIG7O6/ref=sr_1_1?ie=UTF8&qid=1419812834&sr=8-1&keywords=iDiversicons.+The+First+Diverse+Emoji.
Media Contact:
Katrina Parrott
P.O. Box 3323,
League City, TX 77574
832-654-7641
katrina(at)idiversicons(dot)com
http://www.idiversicons.com