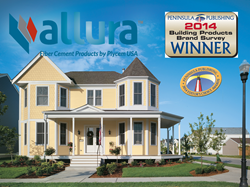 As the better choice in fiber cement siding, readers chose Allura's collection for Best Siding Exterior
Houston, TX (PRWEB) December 29, 2014
Peninsula Publishing announced the 2014 Brand Survey Winners this month in Builder and Developer magazine and among the brand elite included Whirlpool, Ford, Behr and newcomer to the fiber cement plank ranks, Allura by Plycem USA.
Every year, Builder and Developer magazine, the management resource for professional homebuilders nationwide, publishes the results for Peninsula Publishing Building Products Brand Survey. These are products most preferred by the readers of Builder and Developer, Options for Today's Homes, 50+ Builder, Residential Contractor, Green Home Builder magazines and Builder Bytes.
As the better choice in fiber cement siding, readers chose Allura's collection for Best Siding Exterior brand and in addition, Allura won the 2014 Editor's Choice Award for Exterior Products.
Allura has been enhanced with Plycem's advanced technology in order to perform better and provide a superior woodgrain appearance, which is achieved through an exclusive direct processing system using real cedar boards. Allura's offerings include siding, architectural panels, soffit, trim, multishake and interior backboard and underlayment.
For more information, please visit AlluraUSA.com or BDMAG.com.