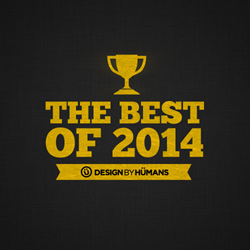 Chico, CA (PRWEB) December 25, 2014
Design By Humans (DBH) has been up to a lot this past year. Lots of new artists, partnerships, contests, and products to talk about. DBH took a look back on the year to see what topped the charts.
Top 10 Best Designs of the Year:
1. Ink Dragon by Alnavasord
2. The Happy Adventurer by Jun087
3. Mr Wolf by ikaruz
4. The Spaceman's Trip by Gloopz
5. Astronaut Cat by clingcling
6. Transcendence by josedeolioart
7. The Butterflies and the Gloves of Stingers by rejagalu
8. Duality by Radiomoide
9. Tonari No Totoro by Victorsbeard
10. The Dark Joker by 6amcrisis
Best DBH Partner Store:
Evil Geniuses - These guys know what their customers want. Thier store is full of unique tees that show support for the team which have been a big hit all year long. EG also brought to DBH unique offerings with their custom jerseys and a limited edition keychain.
Best Performing Collective Store:
Radiomode knows t-shirts. This artist has been around a while and has always delivered high quality fan favorites with a store full of popular themed art with flawless attention to detail.
Best New Art:
Groovin' Through the Galaxy by Beastpop takes this award for cool style, awesome art and perfect timing. Based on a character from Guardians of the Galaxy this one became a hit as soon as it went live on the DBH site and has continued to be a popular shirt.
Best Newcomer:
Ddjvigo joined DBH late in 2013 but made 2014 his year! He comes from Spain and Pop parody is his specialty. A number of Ddjvigo's tees have soared to the top of the top 50 chart instantly like 'Looking for the Dragon Balls' and 'The good, The Mad and The Ugly'.
Parody Design of the Year:
The Dark Joker by 6amcrisis was submitted early in the year but shot into the top 50 chart and stayed there for the rest of the year. A huge success from day one, this paintbrush art is simple but represents the undeniable madness of this character and will be a top seller for many years to come.
Art Design of the Year:
Ink Dragon by Alnavasord is the clear winner. This piece is so well drawn that it became a hit within days of it's launch, as the best performing art of the year, this design sets the bar for all other artists.
Most Popular on Social Media:
We highlight a variety of designs and artists on our social channels and our winner here is the most "liked" design we posted on Facebook in 2014. Super Exclusive Club by Dooomcat is a cute pop culture reference design showing Batman being left out of the club house. A perfect balance of humor, cute and pop culture is why this design is a winner.
Most Improved Artist:
Ingkong is an husband/wife art collective who joined DBH back in 2010. 2014 was when this team found a style that shows they know their customers. Their perseverance and hard work has paid off. They had a few hiccups along the way but really began to understand how to make a great design which have been hitting the top 50 chart regularly.
Heavy Hitter of 2014:
BrianMViveros not only brought amazing art to Design By Humans but also brought a fan base, showing other artists the power of self promotion. You may have even seen Brian's DBH Collective store highlighted with a DBH front page custom banner in October of 2014. A consistent style and smart approach has had Brian's art sitting in the top spots for the entire year.
Special Mentions:
Dooomcat - Hailing from Canada this artist has always delivered funny and appealing designs. This year she joined the DBH Collective and brought a whole new spin on the parody tee.
Mathiole - A master of stylized art, we always love Mathiole's work. It took a while for him to join the Collective, but this year he opened his store and has built a cool range of products.
Aeoll - Abstract art is back! Aeoll started his own trend at DBH back at the beginning of the year and his store has grown into a beautiful set of abstract art. It has also sparked a customer interest in abstract art that is both exciting and not always easy to achieve.
Best Selling Phone Case:
Repainted by Alchemist was the most popular phone case of 2014 and it's not surprising considering how well it is designed for this product.
Best Selling Art Print
Tonari No Totoro by Victorsbeard is the winner of the most popular art print of 2014. A silhouette of the anime character Totoro coupled with a unique landscape make this the perfect choice for any wall.
Community Moment
This year a fellow artist posted this forum post about a friend and DBH artist Zerobriant and DBH wanted to help. The community gathered and it was decided DBH would promote his art across all channels with the help of the artist network and also offer him double commission for one month to help with his medical bills. This was a huge success and DBH is very proud of the artist community for this selfless moment this year.
And that rounds up the best of Design by Humans, but don't be fooled, it doesn't even touch on the amount of shear talent DBH has to offer. Next year is sure to give way to some amazing new artists and designs. Here's to an amazing 2015!
(A note from the DBH Team - DBH would also like to also thank Wotto for all he has continued to do for DBH. From blog posts like this one to his continued support and guidance Wotto has continued to be a driving force and an asset to the DBH community. )
About Design By Humans:
Design By Humans was started in 2007 with the simple vision of bringing artists from around the globe together to give them a platform to produce wearable art that tells a story, strengthens humanity and inspires life through creativity and design. The DBH Collective initiative is inspiring amazing artists and giving them a unique foundation to share artwork through a personal online storefront.
###
If you'd like more information about this topic, please call +855 333 9836 x 302 or email press(at)designbyhumans(dot)com.