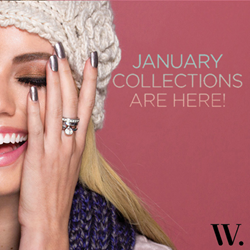 The Fitness Edit, Wantable's newest category, welcomes brands Jala and L'Etoile.
(PRWEB) December 24, 2014
Wantable, Inc., a leading discovery service for makeup, accessories, intimates, and fitness, announces January Collections. The January Makeup Collection welcomes Frankie Rose and Bodyography. January's Intimates Collection features MUK LUKs and Wade & Belle. The Accessories Collection welcomes San Diego Hat Company.
New to Makeup Collections is L.A.-based makeup line, Frankie Rose, with its Infinity Eye Pencil and Lush Lengthening Mascara. Crafted by pro makeup artists, this brand believes that every woman can unleash her inner Frankie Rose and be fearless, confident, and sexy. Another brand looking to boost the confidence of women everywhere is Bodyography. The January Collection will feature their blushes, cream shadows, and gel liners. Another brand in Makeup Collections is Au Naturale, a mineral makeup line offering innovative products rich in color, purity, and texture.
The January Accessories Collection features dazzling pieces to kick-start the New Year. Pieces include shimmering statement necklaces and bejeweled earrings. San Diego Hat Company also makes its way into Collections and customers should select Hair Accessories on their style quiz if interested in receiving it.
January's Intimates Collection combines comfortable loungewear pieces with sexy lingerie. This month welcomes Wade & Belle. Created by two sisters who were tired of worrying about the awkward roll formed by the top of their tights, their design offers a lay-flat waistband that feels like yoga pants and won't show under clothing. MUK LUKS Slipper Socks are also in this month's Collection.
Wantable's newest personal styling service is the Fitness Edit. Unlike the Makeup, Accessories, and Intimates Collections, the Fitness Edit allows customers to try the items before purchasing them. Item prices are based on a customer's personal preferences but usually range from $20-$60 each. The Fitness Edit is a monthly subscription, but can be skipped or canceled at any time. Edits is currently only available to customers in the 50 U.S. states. This month, the Fitness Edit welcomes Jala and L'Etoile.
Wantable, Inc.'s January Makeup, Accessory, and Intimates Collections are available online from December 24 to January 23. Please visit http://www.wantable.com for more information.
About Wantable, Inc.
Wantable offers a personal shopping service online, delivering handpicked assortments of specialty products to busy women on a reoccurring basis.
Each month, in-house and guest curators handpick beauty, fashion accessories, and intimate apparel from hundreds of quality boutique, specialty, and premium vendors to ensure that each collection is filled with the best on-trend items every month. Wantable offers Makeup, Accessories, and Intimates Collections, along with a Fitness Edit.
Wantable, Inc. boasts 24 full-time employees working in Milwaukee's Third Ward, including Jalem Getz, founder and president. Prior to Wantable, Inc., Mr. Getz founded BuySeasons, Inc. in 1999, and served as President and CEO until January 2010. BuySeasons is the largest online retailer and supplier of costumes and party supplies. Prior to starting BuySeasons, Getz co-founded specialty retail company, GMI in 1995. GMI quickly became one of Wisconsin's fastest growing companies and the largest seasonal retailer in Milwaukee.