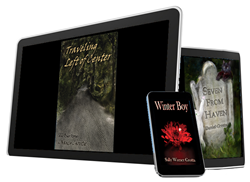 Where's the fun if you can't power up your new Kindle or eReader & read a great story right away?
(PRWEB) December 25, 2014
Receiving an empty Kindle or eReader on Christmas day is like getting an electronic game with no batteries. Without the immediate gratification of being able to power up that device and start reading, where's the fun? Fill up that eReader or Kindle with some of these carefully curated short stories and book excerpts suggestions from Pixel Hall Press.
*Annabelle by Nancy Christie
We all have our fantasies—our hopes and dreams of what we want our future to be. But what happens when our fantasies are based on an erroneous interpretation of past events? A lonely young woman, all Annabelle wants is to love and be loved. But the twin emotions of fear and guilt, from a passion born on a summer day so many years ago, hold her fast. In the short story "Annabelle", author Nancy Christie paints a lyrical portrait of a young woman, the daughter of a painter and his devoted model. Their obsession with the creation of art binds the family and twists the soul of a child. (A complete short story from Christie's collection "Traveling Left of Center and Other Stories")

Reminiscent of work by Margaret Atwood, Mary Doria Russell and Ursula K. LeGuin, "The Winter Boy" explores political and social issues within a dynamic, character-driven otherworld. In "The Winter Boy," a cloistered society of widows has forged a centuries-long peace by using storytelling, reason and sexual intimacy to train young men destined to be leaders. But a new widow's first season with a "problem" boy erupts into conflict, anger and danger, when she uncovers a web of conspiracies that threaten his life and could destroy their entire society. (A novel excerpt)
A tale of an ordinary man who vows to fight Death itself with the only weapon he has... his empathy. "Mr. Eastman's Empathy" is a short story from Grotta's collection "Seven From Haven" -- seven gentle stories of the paranormal with O'Henry-like sensibility, charm and humor.(A complete short story)
Find more books and stories on the Pixel Hall Press website.
*About Pixel Hall Press
Pixel Hall Press is a relatively new, old-fashioned small publishing house whose focus is on discovering literary gems and great stories that might otherwise be overlooked. Our mission is to publish books that energize the imagination and intrigue the mind, and to be a conduit between readers and provocative, stimulating, talented authors.
In this era of digital technology, Wall Street involvement and merger mania, many mainstream publishers seem to have lost sight of core principles and the purpose of publishing. At the other end of the spectrum is the veritable avalanche of self-published books that are notoriously uneven in quality. Small boutique imprints like Pixel Hall Press are reclaiming the heart and soul of publishing by reviving the idea that a publisher's raison d'être is finding and nurturing great writers, and to provide readers with beautiful, meaningful, truly enjoyable books.