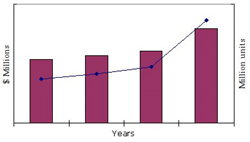 Global Market for Antenna to Reach $19.9 Billion in 2019
(PRWEB) December 26, 2014
BCC Research (http://www.bccresearch.com) reveals in its new report on antennas for systems and devices, the global antenna market reached $14.3 billion in 2013 and is expected to reach $15.1 billion in 2014. This market is anticipated to grow to $19.9 billion in 2019, with a compound annual growth rate (CAGR) of 5.7% from 2014 to 2019.
Sizeable erosion of average selling prices is one of the reasons for its faster growth. However, it is the veritable surge in antenna applications that is playing a greater role in this significant growth across the global market. This surge is orchestrated by the increased need to connect disparate devices, for which wireless communications provide quick and cost-effective solutions. Due to this, wireless sensors are becoming increasingly mainstream and have been instrumental in advancing usage diversity.
Long-term evolution (LTE) remains another major area of growth with the technology leading the march of 4G technologies. BCC Research also forecasts that high-bandwidth applications will have a significant role to play, especially in the improvement of the smart antenna market.
"The state of the antenna market depends largely on the health of its respective end-use application markets," says BCC Research analyst Shalini Ramamurthy. "Antennas are relatively consistent in their functioning with simple operating principles. Consequently, the dynamics of the end-use application markets are the deciding factors in the prosperity of antenna sales."
Antennas for Systems and Devices: Technologies and Global Markets highlights the role played by innovation through a comprehensive patent analysis and brings out the close correlation between OEMs employing antennas and antenna research and technology. It also quantifies the market for smart antennas and places it in the context of the role played by wireless sensors in shaping the antenna market.
Editors and reporters who wish to speak with the analyst should contact Steven Cumming at steven.cumming@bccresearch.com.
About BCC Research
BCC Research publishes market research reports that make organizations worldwide more profitable with intelligence that drives smart business decisions. These reports cover today's major industrial and technology sectors, including emerging markets. For more than 40 years we've helped customers identify new market opportunities with accurate and reliable data and insight, including market sizing, forecasting, industry overviews, and identification of significant trends and key market participants. We partner with analysts who are experts in specific areas of industry and technology, providing unbiased measurements and assessments of global markets. Recently selected as the world's greatest market research company, BCC Research is a unit of Eli Global, LLC. Visit our website at http://www.bccresearch.com. Contact us: (+1) 781-489-7301 (U.S. Eastern Time), or email information@bccresearch.com.