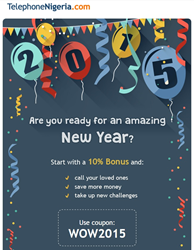 You get more for your money. For the best International calling experience, so far, TelephoneNigeria is the best option. (Comfort Babatola)
Atlanta, Georgia (PRWEB) December 26, 2014
For all those living away from their mother country Nigeria, TelephoneNigeria.com offers 10% free extra Voice Credit to be used for international calls and SMS. The bonus applies on purchases carried out until December 28th on TelephoneNigeria.com, if coupon WOW2015 is used in the checkout process.
The Voice Credit service works as a prepaid phone card, but has more advantages than the standard calling card found in stores:

easy and comfortable online purchase in less than 1 minute
lowest rates for calls to any country in the world
call records and invoices stored in the online account
24/7 Support in several languages by chat, email and phone.
To benefit from the current promotion offering 10% Bonus, customers need to:

open an account on TelephoneNigeria.com and order Voice Credit of minimum $2
use coupon WOW2015 to place the order and get 10% Bonus
The best part is that the cost for creating an account is zero. Plus, the credit never expires. So, there is no rush in using the balance, which is for many a great advantage because the credit runs from one month to another without any expiration date.
The promotion helps one save money on calls to Nigeria. The regular rate to Nigeria, outside the promotion, is 4.9 cents/minute ($0.049) for both landlines and mobiles when using the Voice Credit service. This means one can talk 102 minutes to Nigeria for $5. The 10% December Bonus brings 112 minutes for $5.
Still the lowest rate available on TelephoneNigeria.com for calls to Nigeria is 2.9 cents/minute. It is available if customers subscribe to one of the two Monthly Plans available on TelephoneNigeria.com. "Nigeria 500" offers 500 minutes to landlines and mobiles in Nigeria for $14.49/month. "Nigeria 1000" is $28.99/month and offers 1000 minutes to both landlines and mobiles in Nigeria. One can upgrade or downgrade their plan anytime due to specific needs, plus the plan can be canceled anytime without penalties.
Different ways to make a call are available, according to the gadget used, Internet access or other calling preferences:

From a smartphone to any landline or mobile, using KeepCalling app for Android or iOS; Internet access is needed.
From any mobile, pay phone or landline, through local or toll free access numbers
From PC to phone using the Web Call desktop app displayed in the online account on TelephoneNigeria.com; no download is need.
Free features in the online account make TelephoneNigeria.com a popular website among expats and other ethnic groups calling home regularly. PINless helps customers skip entering the PIN and Speed Dial helps them make a call by pressing one digit only, since a name can be assigned to a phone digit. Voice Prompts and Auto Recharge are other features on TelephoneNigeria.com, that customers find useful, especially since they were created as a result of customer feedback.
In addition to Voice Credit, TelephoneNigeria.com also offers Mobile Recharge and Monthly Plans. Mobile Recharge is a service through which customers can top up mobiles in Nigeria pertaining to operators like: MTN, Airtel, Glo, Etisalat, Visafone. The process is fast and secure and the credit reaches its destination instantly.
Hundreds of thousands of customers trust TelephoneNigeria.com for offering:

Secure payments via PayPal, or any major credit/debit card ("Verified & Secured" label)
Frequent promotions available if subscribed to the Newsletter ("Get offers" button on the website)
KeepCalling app for long distance calls from iOS and Android
Call records and other transaction details in the online account
Easy navigation and purchase from PC, tablet and mobile
100% service fairness and correct privacy policy as certified by BBB and TRUSTe
Best deals on international Mobile Recharges
Instant mobile load
Website accessible in English, Spanish, French
Comprehensive Help Center (frequently asked questions)
24/7 Customer Service, available by chat, phone and email in both English and Spanish
TelephoneNigeria.com guarantees 100% transaction security and satisfaction. All major payment methods are accepted: Visa, MasterCard, American Express, Discover, and PayPal. Moreover, payment is available in several currencies: US, Australian, or Canadian Dollars, plus British Pounds and Euros. The payment security system is known as very strong.
About TelephoneNigeria.com
TelephoneNigeria.com is an interactive website designed by KeepCalling, a global telecommunications company registered in 2002 in USA. KeepCalling provides its services to hundreds of thousands of consumers and businesses, with a focus on customer satisfaction. In 2014, Inc. Magazine listed KeepCalling as the 18th fastest growing company in the telecommunications industry in US.