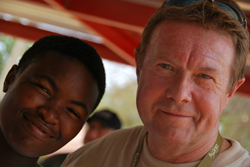 We hope that our fundraising will go a little way to bring some continued joy and smiles to the Tapologo Centre - Colin Farmer
London, UK (PRWEB UK) 24 December 2014
Alliott Groups' London accountancy and founding member firm Alliotts, today raised £2000 for the Tapologo Centre in South Africa. The monies were raised in a festive style with members of staff wearing their Christmas jumpers and through raffles and auctions.
Colin Farmer, Alliott Group EMEA Deputy Chair and Partner of the London Accountancy Firm chose to champion the centre after recently visiting it for the annual 'Giving Back' initiative whilst attending the Alliott Group World Wide Conference which was held in South Africa.
Colin and the other Alliott Group members spent time helping at the centre and bringing some much needed fun to the children by assisting in several ways, such as organising games, painting colourful murals on the walls, face painting, and preparing lunch for the children.
The Tapologo community centre is an after school & counselling facility for vulnerable and abused children. Run by an NGO it offers the children who are mainly from child-headed households, much needed support, counselling, after school care and a feeding scheme. Care for HIV + children is paramount where anti-viral medication and meals can be controlled with a specialised clinic available on grounds.
"I was genuinely touched by just how inclusive and supportive the children were of each other even though they had very little. We hope that our fundraising will go
a little way to bring some continued joy and smiles to the Tapologo Centre which when translated aptly means 'A Place of Peace and Rest' commented Colin Farmer
Notes for the Editor
Alliott Group is a worldwide alliance of independent accounting, law and consulting firms. With more than 170 member firms in some 70 countries, the group meets the local and cross-border needs of its members and their clients. http://www.alliottgroup.net
Alliotts is an independent accountancy and business advisory practice based in London and Guildford.
Their reach and expertise extends to businesses and individuals worldwide. http://www.alliotts.com