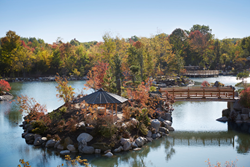 GRAND RAPIDS, Mich., (PRWEB) January 05, 2015
Frederik Meijer Gardens & Sculpture Park, one of world's most comprehensive sculpture and botanic experiences, presents its 2015 calendar of events. Celebrating its 20th year with a "Welcoming the World" theme and the opening of The Richard & Helen DeVos Japanese Garden in June, Meijer Gardens continues to incorporate its core mission of exploring the duality of art and nature in the year's events. Internationally acclaimed sculpture exhibitions, exciting horticulture shows, seasonal indoor and outdoor displays and educational programming are enjoyed by over 600,000 visitors annually.
Events & Exhibitions
Major international exhibition, "Splendors of Shiga: Treasures from Japan"
Friday, January 30-Sunday, August 16
Winter display: January 30-March 22
Spring display: March 28-June 4
Summer/Fall display: June 10- August 16
The exhibition will display more than 60 Japanese historical works of art from the 10th century to the present day. This unique exhibition—a partnership with Shiga, Michigan's sister state in Japan—heralds the grand opening of The Richard & Helen DeVos Japanese Garden at Meijer Gardens in June 2015. From shigaraki pottery, to more delicate scrolls, screens, kimono, and functional objects; works on paper and in wood will change every two months, protecting the artifacts while providing guests with a new view of the exhibition. These rare objects follow one of several themes: the landscape of Shiga, beauty in daily life, the four seasons, portraiture, animals and birds, devotional imagery, among others. Many of the works are regional and national treasures; most have never been seen outside of Japan. A video on Shiga, its art and culture, will play continuously and maps and other information about Shiga will be available to guests. (Please note: Exhibition will be temporarily closed March 23–27 and June 5–9 for changing of artifacts on display.)

Friday, February 6, 12 p.m.
Experience the exhibition through the eyes of the person who planned and installed it. This informal tour will highlight silk scrolls, kimonos and functional ceramic ware, among other artwork.
Lecture: What Makes a National Treasure?
Saturday, February 14, 2 p.m.
Charles Mason, Hope College
Learn what constitutes a National Treasure in Japan and whether there are any similarities to this practice in the United States.
Friday, February 20, 12 p.m.
Anne-Lise Whitescarver, Instructor
Watch an expert ikebana artist as she "brings flowers to life." Learn about the techniques and approaches to arranging plant materials in special containers in this distinctive art form.
Lecture: Wabi-cha (tea) and Transformation of Shigaraki Ware
Sunday, March 8, 2 p.m.
Natsu Oyobe, University of Michigan
Discover the concept of wabi-cha that emerged in the 15th century, and has been practiced for more than 500 years in Japan. Using examples of Shigaraki ware in the exhibition, Dr. Oyobe will examine how the utilitarian ware of Shigaraki was transformed and adopted into the practice of wabi-cha over history.
Friday, March 13, 12 p.m.
Julie Francke, Curator of Horticulture Education
Matthew Parsons, Member & Donor Events Coordinator
Carrie Westra, Registrar
Walk through the galleries with three staff members as they explore objects from another culture from their own perspectives. Discover interesting personal interpretations of objects that you may have never thought of before. Participation in the discussion is encouraged; it is not necessary to be an expert to find deeper meaning in art!
Lecture: Japanese Buddhism
Saturday, April 18, 2 p.m.
Dr. Stephen Covell, Mary Meader Professor of Comparative Religion and Chair of the Department of Comparative Religion at Western Michigan University
Dr. Covell will focus on Buddhism and material culture. What is the role of artwork in Japanese Buddhism? What does Buddhist material culture look like in contemporary Japan? Dr. Covell will address these topics and more in order to better understand the materials on display in the exhibition.
Lecture: Japanese Fashion: From the Dynastic Kimono to the Contemporary Runway
Tuesday, May 19, 7 p.m.
Dr. Suzanne Eberle, Kendall College of Art and Design
Traditional Japanese clothing dates back to the 14th and 15th centuries, and followed strict guidelines. Even samurai military wear and common workers' garments reflected distinctive cultural ideas about how clothing should look and interact with the body. But these historical Japanese garments have also inspired recent high fashion designers like Issey Miyake and Rei Kawakubo, who have borrowed from a revered sartorial Japanese past to revolutionize fashion today.
Major Sculpture Acquisition Announced
February 11
Meijer Gardens will share information about a major sculpture acquisition by one of the world's most prominent and provocative sculptors. The dedication of this piece will be on April 20th, Meijer Gardens' 20th birthday.
"Fred and Dorothy Fichter Butterflies Are Blooming" exhibition
March 1 – April 30
A visitor favorite in its 20th year, Butterflies Are Blooming features butterflies from tropical regions around the world flying freely in the 5-story tropical conservatory. The 80-degree conservatory is filled with thousands of exotic butterflies from tropical regions around the world. More than 40 different species of butterflies and moths make this an exciting and colorful exhibition. Throughout the exhibition, butterflies can be viewed drinking nectar from the flowering plants and feeding stations, congregating among stream beds and flying freely. Approximately 800 chrysalides are delivered to Meijer Gardens weekly. Visitors may watch delicate chrysalides and cocoons being placed in the Butterfly Bungalow, where the unique creatures transform and take their first flight. This year's exhibition will focus on the butterflies from South America.
Butterfly Ballet: Who Am I?
Saturdays, March 7 and 21, 10 a.m. OR 12:30 p.m.
Fee: $5 members/$8 non-members; Free for ages 2 years and younger
Choreographed by Attila Mosolygo, performed by members of the Grand Rapids Ballet Junior Company
Developed in collaboration with Grand Rapids Ballet, this unique performance highlights characteristics of butterflies through dance. Titled, Who Am I, the story is charming: a butterfly emerges from its chrysalis and wonders what kind of a creature it is. With costumes, music, audience interaction, activities before the performance starts and a question and answer period with the dancers afterward, it promises to be a thoroughly fun and enlightening experience. What better way to learn about butterfly behaviors and characteristics than through dance? Register online at MeijerGardens.org.
Tuesday Night Lights – Bring your flashlights on Tuesday nights until 9 p.m. and discover the nightlife in the tropical conservatory.
Children's Activities
March 1–April 30, Daylight hours only
Once you have observed caterpillars in the Seasonal Display Greenhouse and butterflies in the Tropical Conservatory, come out to the Children's Garden for some engaging outdoor education:
o Fly like a butterfly, wrap up like a chrysalis, curl up like a caterpillar, or crawl out of an egg using lifecycle costumes and your imagination.
o Perform a butterfly-themed puppet show or read about moths and butterflies in the Log Cabin.
o Search for butterfly and moth lifecycle stages in a special Treehouse Village hunt.
o Ring the bell after successfully navigating through the Butterfly Maze.
o Become a butterfly in the Monarch's Migration game.
Master Lecture Series: Wege Environmental Lecture
Tuesday, March 24, 7 p.m.
Speaker: Louie Schwartzberg, "The Hidden Beauty of Pollination"
Uncovering the mysteries of the living universe through film is the passion of award-winning producer, director and cinematographer Louie Schwartzberg. Don't miss the opportunity to meet this pioneer of time-lapse, high-speed and macro cinematography. His specialized aerial imagery has even been featured in award-winning films directed by Steven Spielberg, Frances Ford Coppola, Paul Haggis and Ridley Scott. Join us for an unprecedented glimpse through Schwartzberg's artistic lens as he explores the hidden world of pollinators including butterflies, hummingbirds, bats and bees, and their precarious relationship with flowers. RSVP at Shelly at 616-975-3144 or skilroy(at)meijergardens(dot)org.
Meijer Garden's 20th Birthday
April 20
Major sculpture acquisition announced on February 11th will be dedicated.
Great Gardens Party
Wednesday, May 13
Meijer Gardens' annual fundraiser features hors d'oeuvres, a sit-down dinner, entertainment and fun.
The live and silent auction highlights exciting trips, unique items as well as plant material for the garden. Horticulture experts will be on hand to answer any questions about caring for plants. All proceeds support Meijer Gardens' dual mission of promoting the enjoyment, understanding and appreciation of gardens, sculpture, the natural environment and the arts. Tickets are $100 per person. Please contact Elizabeth McCarthy at emccarthy(at)meijergardens(dot)org or 616-975-3168.
Grand Opening of The Richard & Helen DeVos Japanese Garden
June 11-12: Member opening
June 13: Open to the public
One of the most revered and deeply appreciated international garden styles, this 8-acre addition will further the organization's dual mission of horticulture and sculpture. Created by international designer, Hoichi Kurisu, the garden will encompass tranquility, simplicity and beauty which are the very essence of a Japanese garden. In addition to a Zen-style garden, cloud-form pine trees, four waterfalls, a teahouse, stone walkways, gazebos and a diverse group of plantings that are hearty to West Michigan, this garden will feature sculptures by international masters: Anish Kapoor, Zhang Huan, Masayuki Koorida, Giuseppe Penone, George Rickey, Jenny Holzer and David Nash.
Fifth Third Bank Summer Concert Series at Meijer Gardens
Late May – beginning of September
Eclectic selections of world-renowned musicians headline the 12th annual Outdoor Summer Concert Series at the Frederik Meijer Gardens Amphitheater. The 1900-seat amphitheater lawn is a great place to enjoy a picnic and great music in the summer weather. The lineup, including a special 20th anniversary concert, will be announced in April.
Tuesday Evening Music Club
Tuesdays in July and August
July begins the Tuesday Evening Music Club, a series featuring West Michigan's finest performers. Guests are encouraged to enjoy the entire facility in addition to the concerts. Bring a picnic, dance and enjoy the beautiful summer weather.
"Chrysanthemums and More!" exhibition
September 18– November 1
This annual celebration of the autumn season features an extensive chrysanthemum display with hundreds of flowering plants in both interior and exterior areas. Indoor highlights include varieties on display along the winding Scenic Corridor and in the Seasonal Display Greenhouse, while outdoor plantings are featured in the English Perennial Garden, Michigan's Farm Garden and Volunteer Tribute Garden. Color tours, tram rides and seasonal children's activities are available.
Major international exhibition, "Tradition and Innovation: Japanese Ceramics Now"
Tuesday, November 24-Sunday, January 3, 2016
(ArtPrize: Wednesday, September 23—Sunday, October 11)
Although ceramics in Japan represent one of the world's most revered and continuous artistic traditions, contemporary masters are often highly innovative. This exhibition of ceramic artists working across Japan surveys the state of the genre today. From the functional to the sculptural, approximately 20 carefully selected works that acknowledge tradition but likewise embrace the avant-garde will be on display in the sculpture galleries. Based on a national search and selection process in Japan, this unique exhibition is co-curated by the famed Shigaraki Ceramic Cultural Park in the Shiga Prefecture, Japan and Frederik Meijer Gardens & Sculpture Park; it is the first presentation of its kind in the United States. Timed to coincide with the recent opening of The Richard & Helen DeVos Japanese Garden at Meijer Gardens, the exhibition further celebrates the vibrancy of one of the living cultural traditions of Japan. This exhibition will debut in Grand Rapids then travel to venues in Japan in 2016.
"Christmas and Holiday Traditions Around The World" exhibition
Tuesday, November 24– Sunday, January 3, 2016
Holiday Gala, Thursday, December 3
Experience the most magical time of year as Meijer Gardens transforms into a world of winter magic with the glow of 300,000 lights, more than 40 captivating international trees and displays, strolling carolers, horse-drawn carriage rides and more surprises than can fit under the tree. The Railway Garden, a holiday favorite, winds its way through three separate indoor gardens. New this year, the Railway Garden will have five new landmarks from Grand Rapids' sister cities: Bielsko-Biala (Poland), Omihachiman (Japan), Perugia (Italy), Ga District (Ghana) and Zapopan (Mexico).
Please Note
All exhibition dates and titles are subject to change. To confirm information, or to obtain additional information and images, contact Andrea Wolschleger at 616-975-3155, or awolschleger(at)meijergardens(dot)org. Exhibitions are included with admission to Meijer Gardens. Hours are Sunday, 11:00 AM–5:00 PM; Monday, 9:00 AM-5:00 PM; Tuesday 9:00 AM-9:00 PM; Wednesday-Saturday, 9:00 AM-5:00 PM; unless otherwise noted. Admission rates are Adults (14 - 64): $12.00, Seniors (65 and older): $9.00, Students (w/ student ID): $9.00, Children (5 - 13): $6.00, Children (3 - 4): $4.00, Children (2 and younger): Free.
About Frederik Meijer Gardens & Sculpture Park
One of the world's most significant botanic and sculpture experiences, Frederik Meijer Gardens & Sculpture Park serves over 600,000 visitors annually. Meijer Gardens was recently ranked in the top 100 most-visited art museums worldwide by Art Newspaper, the leading publication in global art news. The 158-acre grounds feature Michigan's largest tropical conservatory; one of the largest children's gardens in the country; arid and Victorian gardens with bronze sculptures by Degas and Rodin; a carnivorous plant house; outdoor gardens; and a 1900-seat outdoor amphitheater, featuring an eclectic mix of world-renowned musicians every summer. The internationally acclaimed Sculpture Park features a permanent collection including works by Rodin, Oldenburg, Moore, Serra, Bourgeois and Plensa, among others. Indoor galleries host changing sculpture exhibitions with recent exhibitions by Picasso, Degas, di Suvero, Borofsky, Calder and Dine. In June 2015, the 8–acre Richard & Helen DeVos Japanese Garden at Frederik Meijer Gardens & Sculpture Park will open. Created by renowned designer Hoichi Kurisu, the garden will also feature sculpture by Anish Kapoor, Zhang Huan, Jenny Holzer and Giuseppe Penone, among others.