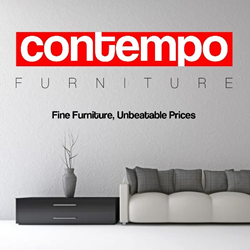 We're trying to give people the fine furniture experience, but at the same time make the products more accessible to the general public with great deals and prices
Coral Gables, Florida (PRWEB) December 26, 2014
Contempo Furniture has decided to extend their Black Friday special to Jan. 15 to allow customers to take advantage of great deals throughout the holiday season. Customers can purchase four chairs for $1,000, dining tables for $2,000, and any sofa plus a coffee table for $2,000.
"We're trying to give people the fine furniture experience, but at the same time make the products more accessible to the general public with great deals and prices," said Jose Loor, operations manager at Contempo Furniture. "There has been an overwhelmingly positive response so far to the sale and we want to continue to promote our brand and products."
Contempo Furniture is extending the sale to provide customers with great holiday deals. It also gives Contempo Furniture a way to clear out inventory to make room for the brand new designs they plan to roll out in spring.
So far, the most popular items in the sale have been dining sets and coffee tables, likely because people are looking for furniture to lay out their holiday meals on this season.
All of the holiday season specials can be viewed along with bright, detailed images on the Contempo Furniture website. Customers can also place orders online quickly and easily through the company's interactive, user-friendly website.
Contempo Furniture was launched in September 2014 and is aiming to become the go-to place for shopping for affordable contemporary furniture online. The company's pieces offer high-end style and quality for a fraction of the normal cost.
The company's showrooms are similarly nontraditional. Rather than putting furniture in a warehouse for clients to view, they have three model homes which customers can walk through to view new items in a lived-in setting. Anyone can request a tour and be scheduled for a visit.
People who don't live near model homes can still shop and order from the website.
About Contempo Furniture
Contempo Furniture keeps track of the latest trends, as well as classic designs, in the world of modern furniture. Their quality pieces, ranging from coffee tables to lounge chairs, offered alongside top-notch customer service. To learn more, visit contempofurniture.com.