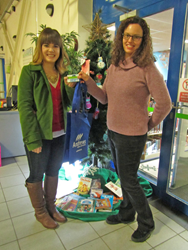 Suitland, Maryland (PRWEB) December 24, 2014
Andrews Federal Credit Union recently sponsored the "Five Days of Christmas" in partnership with the American Forces Network (AFN) and Family and Morale, Welfare, and Recreation (FMWR).
Each morning AFN announced a trivia question during their morning radio show. The caller with the correct answer won a $25 gift card provided by Andrews Federal Credit Union, for a total of five winners.
"I am glad that we could do our part to spread some holiday cheer within the BENELUX Community this Holiday Season, " said Joshua Barrett, Chievres Branch Manager, Andrews Federal Credit Union. "It is such a pleasure to see people happy and I am glad that Andrews Federal Credit Union could be a part of that."
The contest ran from Monday, December 15 through Friday, December 19, and was open to any US DOD ID Card Holder.
About Andrews Federal Credit Union
Andrews Federal Credit Union was founded in 1948 to serve the needs of military and civilian personnel by providing a vast array of financial products and services. With over $1 billion in assets, Andrews Federal has grown to serve more than 100,000 members in the District of Columbia, Joint Base Andrews (MD), Joint Base McGuire-Dix-Lakehurst (NJ), and military installations in central Germany, Belgium, and the Netherlands. In addition, the Credit Union serves as a financial partner with many select employee groups in Maryland, the District of Columbia, and New Jersey.
To learn more about Andrews Federal Credit Union and its community involvement, or to become a member, call 800.487.5500 or visit http://www.andrewsfcu.org.