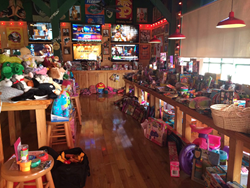 Christmas should be cherished by all children, and it is our mission to reach as many children as possible by exceeding the number of children and families we touch each year.
Tampa, Fla. (PRWEB) December 26, 2014
Since 1998, Ker's WingHouse Bar & Grill has made the holidays for underprivileged children and families a joyous occasion. Out of NFL alumnus and WingHouse CEO, Crawford Ker's sincere desire to support the community, "Ker's Christmas" was created, and this year's event will be bigger than ever before.
Ker's WingHouse will be providing a Christmas meal and toys for children and families of the Florida Sheriffs Youth Ranches, BabyCycle, Homeless Emergency Project and Big Brothers Big Sisters of Pinellas County. To top it off, an appearance by Santa Claus will hallmark this experience as truly a memorable Christmas for each and every child in attendance.
The event will take place from 11 – 2 p.m. on Christmas Day, Dec. 25, 2014 at the Ker's WingHouse of Clearwater: 2640 Gulf to Bay Blvd., Clearwater, Fla. 33759.
Helping to make this event possible are the many generous WingHouse Girls; serving their community by volunteering to spend their Christmas day serving free meals and handing out toys at the event. "Spending my Christmas unselfishly by helping others is truly a gift, as well as being able to bring joy to these families," says WingHouse Girl and Ker's Christmas volunteer, Samantha Morris.
"Last year's Ker's Christmas was awesome! Like this year, I have absolutely no resources for buying my children any gifts for Christmas. I was blown away by the service, the organization, and the gifts! No one left empty handed and as a matter of fact, most people left with more than they could carry! It was an amazing blessing. My kids won a bike and small TV. My children were happy and that's all that matters to me. Our family was really blessed by the Ker's Christmas and the children are looking forward to it again this year," says 39-year-old Isoke Jacobs, mother of five in Clearwater, Fla.
"Christmas should be cherished by all children, and it is our mission to reach as many children as possible by exceeding the number of children and families we touch each year. This year is our largest yet, and we are extremely grateful for the community's support in this endeavor. We are excited to spread some holiday cheer," says Ker.
About Ker's WingHouse
Founded by the National Football League's (NFL) Dallas Cowboys and Denver Broncos alumni, Crawford Ker, the first WingHouse opened in Largo, FL in 1994. The WingHouse staff's dedication and teamwork was a recipe for success. Now, WingHouse has 24 locations throughout Florida with plans to grow into the rest of the Southeast.
All WingHouse restaurants are open for lunch and dinner and feature full-service bars with a wide selection of liquor cocktails and major domestic, imported, and specialty beers. Signature items include our "Naked" Chicken Wings: skinless drummettes marinated, baked, and tossed in one of our award winning wing sauces, and our Dallas Burger: two juicy 8 oz. BBQ burgers topped with bacon.
WingHouse features state-of-the-art TV packages for all the big games and fights. The authentic sports memorabilia and our fun, friendly, casual environment make WingHouse the ideal place to be a sports fan. Select locations offer WingHouse "Game Zones" complete with arcade style games and pool tables. The main attraction at the WingHouse is our version of "The Girl Next Door", the World Famous WingHouse Girls. The WingHouse Girls are the foundation of our concept. They serve tables, tend bar, work as hostesses, participate in brand promotions and are our company's cheerleaders.
The WingHouse Girls are attractive and polite. As ambassadors of our mission to be "brilliant on the basics", their great service, positive attitudes and pretty smiles encourage guests to make frequent visits and become loyal customers. The WingHouse strives to create quality and memorable experiences for every guest! We are very proud of our history, and are looking forward to our future! For more information, visit http://www.winghouse.com.
About Florida Sheriffs Youth Ranches
The Mission of the Florida Sheriffs Youth Ranches is to prevent delinquency and develop strong, lawful, resilient, and productive citizens who will make a positive contribution to our communities for years to come.
About Big Brothers Big Sisters of Pinellas
For more than 100 years, Big Brothers Big Sisters has operated under the belief that inherent in every child is the ability to succeed and thrive in life. As the nation's largest donor and volunteer supported mentoring network, Big Brothers Big Sisters makes meaningful, monitored matches between adult volunteers ("Bigs") and children ("Littles"), ages 6 through 18, in communities across the country. We develop positive relationships that have a direct and lasting effect on the lives of young people. For more information, please visit http://www.bbbspc.org.
About the Homeless Emergency Project
HEP is a registered 501(c)(3) charitable organization. Since 1986, our mission has been to provide homeless and very low-income individuals and families with housing, food, clothing and support services necessary to obtain self-sufficiency and improved quality of life. For more information, please visit http://www.ethep.org.
About BabyCycle
We pride ourselves on being south Pinellas County's only community diaper bank. Our goal is for no child to go without necessities like diapers, wipes, clean clothing and food. Every child deserves not to have to worry about having food, diapers, wipes or clothing and every Mother deserves a chance to provide these items to their children. For more information, please visit http://www.babycyclefl.org.