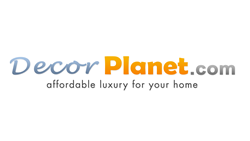 NEW YORK, NY (PRWEB) December 26, 2014
Online retailer DecorPlanet.com is helping customers save during this year's holiday season by offering a special 10 percent discount on all of the luxury home and bathroom decor that the company sells. This online sale, which DecorPlanet.com is holding to show appreciation for its customers, will run until the end of 2014, and to complement the special sale, DecorPlanet.com is also offering free shipping to customers who place their orders on or before Dec. 31. To save on both product rates and shipping expenses, customers only need to enter a special promotional code at checkout; the code, along with other information about the sale, is conveniently displayed on a banner on DecorPlanet.com's home page. This customer appreciation sale should make it easy for customers to save money on the already affordable selection of furnishings, decor, and other home and bathroom supplies that DecorPlanet.com sells.
DecorPlanet.com only carries high-quality, luxury products made by manufacturers that meet the strictest industry standards, but customers can still expect reasonable pricing on every purchase. DecorPlanet.com keeps costs low for customers through various steps, including reducing overhead costs, with most business conducted online; cutting out middlemen and buying directly from manufacturers; and using a sales model that generates revenue based on sales volume, rather than profit margin. The company backs up its competitive product pricing with a 110 percent Price Match Guarantee, which states that DecorPlanet.com will match the price that any competitor offers and then give the customer an additional 10 percent off the item in question, as long as the price discrepancy is found within 15 days of the purchase. These guarantees, along with special offers and discounts such as the current customer appreciation sale, help DecorPlanet.com's customers enjoy leading bathroom and home products for a reasonable price.
About DecorPlanet.com
DecorPlanet.com sells a variety of luxury bathroom and home products, including sinks, mirrors, tubs, toilets, vanities, lighting fixtures, and doors; all of these products are available at competitive discounts or wholesale prices, backed by DecorPlanet.com's 110 percent Price Match Guarantee. DecorPlanet.com makes online shopping simple for customers by offering easily accessible live help, website security guarantees, affordable shipping rates, and an easy process for making returns. Customers can browse thousands of products on DecorPlanet.com's website or visit physical showrooms to see products that they are interested in. To learn more about Decor Planet, please visit http://www.decorplanet.com.