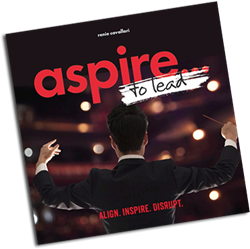 "Rarely does a book of any size truly motivate one to act..." -President & CEO of PAR Springer-Miller Systems, Larry Hall
Phoenix, AZ (PRWEB) January 05, 2015
Available everywhere today, Renie Cavallari's new book aspire…to lead delivers the lessons, tools, and techniques today's leaders must practice and develop if they wish to remain competitive and guide their people and organizations where they want and need to go. Collected over 20 years delivering impactful leadership development programming with her training and consulting company Aspire. People. Performance. Profits., the paradigm shifting methods shared by CEO & author Renie Cavallari in aspire…to lead are written "to inspire leaders as they inspire the world."
Remarking further upon the release of aspire…to lead, Cavallari said, "Great performances come from great leadership. Imagine the conductor of an orchestra – they have a vision for the season, set the strategy to practice and perfect its execution, and fuel inspiration in others to get them to play full out. Aspire…to lead uses language people can relate to in order to provide focus and clarity around what matters most for today's business leaders to achieve and sustain success."
Aspire…to lead provides an in-depth look at the leadership principles and strategies that have grown revenues, profitability, and customer retention for some of the world's most respected leaders. Included are key findings and approaches from Aspire's nearly two decades of research and experience into how people actually sustain and improve performance, interview highlights with lessons from other leaders, and actionable summaries at each chapter's end. Cavallari presents a 360-degree view of what it takes to lead today, and the tools to help readers do it. Topics include:

What it takes to lead in the 21st Century
What matters most and how to maintain focus
Approaches to align an organization to deliver on shared goals and expectations
How to inspire, engage and develop accountability in people
Techniques to skillfully instigate change and leverage opportunities, rather than mitigate losses
By using the thinking questions, planning charts, and action tips at the end of each chapter, readers can learn to guide their organizations through change effectively and drive new results. Through practicing what they learn in aspire…to lead, readers can strengthen their leadership muscle, energize their people and organizations, grow revenues, and increase retention of staff and customers.
The aspire…to series is a collection of books that provide leaders with real tools and proven approaches to align their teams, challenge the status quo, and deliver outstanding results. "Rarely does a book of any size truly motivate one to act," said President & CEO of PAR Springer-Miller Systems, Larry Hall about the first book in the series. "Renie's aspire…to be contains page after page of inspirational tips that make leaders more effective, immediately! Read an act, and you can't help but become a much more effective and inspirational leader as a result."
Experience aspire…to lead today. Purchase the book on Amazon, or download chapter 1 for free with no obligation at Aspire's website.
About Aspire. People. Performance. Profits.
Aspire is a leadership training & consulting company that skillfully challenges the status quo and thinks boldly with customers to improve financial performance. Founded in 1995 by Renie Cavallari, Aspire celebrates its 20th anniversary next year in 2015.
About Renie Cavallari
Renie Cavallari is founder, CEO, and Chief Instigator of Aspire and author of aspire…to lead, aspire…to be, and The Official Girlfriends' Getaway Guide. Known for her high-energy, high-impact, and engaging style, Renie's inimitable grasp of business and its challenges and her proven, innovative solutions set her apart as a captivating speaker, author, leader, coach, and strategist who has driven measurable results for people and organizations around the world for more than 30 years.