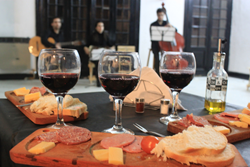 St.Louis, Missouri (PRWEB) December 26, 2014
Dance Pizazz, the St. Louis area's funnest, friendliest dance studio (http://www.dance-pizazz.com), introduces a wine tasting event like no other. This event offers wine tasting like the pros while watching professional ballroom dancing.
On January 10th Dance Pizazz will be hosting a wine tasting event. This event will be presented by Mike McAllister and Nikki McElvain. Mike will begin the event by teaching the group how to taste wine like the Professionals. There will be a selection of 6 wines total and they will all be presented with history, facts, and enthusiasm. After every 2 bottles Mike and Nikki will perform one of many of their professional dance numbers. This is the 3rd wine tasting experience Dance Pizazz has held and due to popular demand surely won't be the last!
Dance Pizazz is happy to serve the St. Louis area with fun events such as this one. We look forward to this event and many more to come. Check out http://www.dance-pizazz.com for more events.