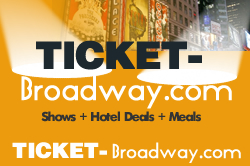 Buy Broadway tickets at the Ticket-Broadway.com after Christmas sale, with some of the lowest discounts of the year for The Book Of Mormon, Wicked and many more shows.
New York, NY (PRWEB) December 26, 2014
Financial Firebird Corporation's Broadway Tickets website announces their After Christmas specials available for shoppers without quantity limits and prices discounted through midnight December 31. Theater lovers may now use the technology at Ticket-Broadway.com to sort the top ten Broadway shows to either find the cheapest performance for and seat on any show date, or sort the show dates to highlight the cheapest orchestra seats or the cheapest tickets orchestra center. Financial Firebird Corporation already introduced this new technology for sports teams including the New York Knicks, Rangers and other NBA, NHL and NFL teams. Special Broadway Tickets discounts on sale Cyber Monday include:
$35 Off Two Tickets For These Events - Use Discount Code BFCM13A :
Book of Mormon Broadway New York Two or more Orchestra Tickets
$20 Off Any Two Tickets For These Events - Use Discount Code BFCM13B :
Aladdin on Broadway Orchestra Only
Book Of Mormon Any Tickets
The Lion King New York Any Tickets
Wicked Broadway New York Orchestra Tickets
Kinky Boots Broadway New York Orchestra Tickets
It's Only A Play Tickets
Motown Broadway New York Orchestra Tickets
Those looking for other theater events either on Broadway, Off Broadway, other New York City shows like a performance at Lincoln Center, the Rockettes Christmas Spectacular playing through December 31; or a touring show can use these codes for sale prices for any qualifying tickets. Other top cities for Broadway touring shows include Los Angeles, Chicago, Boston, San Francisco, Philadelphia, Houston, Dallas, Cleveland and Washington DC.
$25 Off tickets with and any order over $200 Use Discount Code BFCM13C
$10 Off tickets with and any order over $100 Use Discount Code BFCM13D
While consumers may use these offers without limit and share them with their friends, they end Monday at midnight. Given the very low prices to begin with at Ticket-Broadway.com these may represent the best prices attainable at any site for quite some time. Ticket-Broadway.com operates in the ticket resale market, similar to sites sports and concert fans may be familiar with. Often Ticket-Broadway.com sells the exact same seats as other resale sites, and in an exact seat price comparison Ticket-Broadway.com proved its rights to the name by beating 25 out of 25 competitors for lowest priced tickets when examining the true final cost including fees and delivery. When looking for tickets to sold out concerts or for premium tickets like orchestra and orchestra center seats, Ticket-Broadway can prove to be the best bet. Try a comparison including the ticket price as well as services fees; like always, recent tests proved Ticket-Broadway emerged the lowest once again. Try Ticket-Broadway for hard to get tickets like the hottest Broadway shows both in New York and on the road.
In addition to tickets, combine the tickets with a hotel for Broadway Package and get a free $25 of you meal before or after the show. Call 800 351 3301 or visit BrodaywayTicketPackages.com for information or to book a trip.
About Financial Firebird and Ticket Broadway
The site to buy Cheap Broadway Tickets online and its sister sites, including the site to buy cheap concert tickets, all geared for the consumers looking for low prices, are affiliated with the Financial Firebird Corporation Travel Group, and stand among the top sites sought by travelers and people who enjoy concerts, pro sports and theater performances. Financial Firebird Corporation, established in 2000 and a proud BBB member, provides unbiased consumer information particularly involving personal unsecured debt or mortgages, software and marketing services. These sites for consumers to buy tickets online operate in the resale market and maintain no relationship with the venues or performers. The resale ticket market allows consumers access to popular events once the box office has sold out or to buy premium seats when the venue no longer offers any inventory. Within the group of these secondary market ticket services the Financial Firebird owned ticket sites offer lower prices than competitors. Find the site at Ticket-Broadway.com.