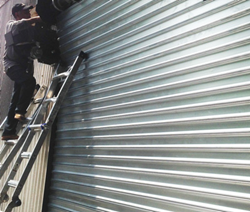 Well-regarded providers of low-cost security solutions
Manhattan, New York (PRWEB) December 26, 2014
Well-regarded providers of low-cost security solutions, Rolling Gates NYC has announced its desire to help keep commercial and residential property across the five boroughs with expert advice and a discount on its rolling gates, which have a reputation for being both of superior quality and low in price.
Field Manager, Jonathan L. said, "this Christmas, we want to make our customers aware of the need for extra security over Christmas. If you are planning to leave your business premises or home unattended for extended periods during the holidays, we would recommend being extra cautious.
An effective and low-cost way of protecting properties is to install a rolling gate or the doors of your choice, especially considering the 10% discount that we are offering to all customers within the five boroughs this festive season."
One indisputable fact about rolling gates is that they increase the security of any property, having been designed specifically with stability in mind. Many manufacturers and installers, Rolling Gate NYC included, tailor their doors to the exact size of a particular property, making installation completely trouble-free.
The vast majority of gates at Rolling Gate NYC are made from aluminum, which is known to keep its shape better than other materials in hot and cold weather meaning that users are unlikely to have problems opening their gates in the extreme cold of the New York winter.
Mr L. continues, "our 24-hour emergency repair service will allow you to see to any issues you might be having with your existing rolling gate, and our same-day installation service will allow you to get the extra security you need right up until late on Christmas Eve."
At the time of writing, Rolling Gate NYC charges $55 for trouble shooting, which will be deducted to the final cost if the decision is made to buy. In addition, the company gives 90 days warranty on labor and a one year manufacturer warranty.
Mr L. wishes it to be known that all costumers will be made aware of everything they need to know before work is undertaken, this includes: parts that needs to be replaced, timeline and warranty coverage.
Disclaimer: The 10% discount refers only to a complete, new gate installation and is available only until January 1st, 2015.
Contact: Rolling Gates NYC
Phone: 212-202-0747
Web Address: http://www.rollinggatesnyc.com