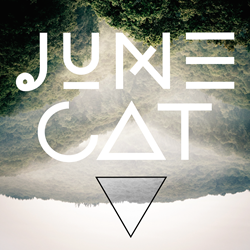 You guys were the perfect entertainment. It made the night.
Los Angeles, CA (PRWEB) December 30, 2014
June Cat, an up and coming folk/rock duo out of Los Angeles, has announced that they are now available to play weddings.
The duo, featuring Taylor Olson and Colin Hatch, have a perfect blend of nostalgia and romance as they sing a mix of covers and originals at weddings throughout Southern California. A particular highlight is their original song "Fall," where they sing, "Fall, I was made for fall, I was made for falling for you." They sing a wide repertoire of songs ranging from current hits to folk anthems and old standards. The versatility in their repertoire as well as their approachable sound ensures enjoyment by all ages. In addition, they can learn songs upon request from the bride and groom, often singing songs for the first dance or the father's dance.
Colin and Taylor have been singing together for over two years now and have sung at multiple weddings. One mother of the bride said, "You guys were the perfect entertainment. It made the night." The bride sought out the duo after seeing their June Cat wedding sampler online. The video gives brides an idea of the simple but beautiful sound the duo has, as well as a few of the many songs in their repertoire.
The band feels lucky when they can help make a wedding a success. Taylor said "A wedding is one of the most important days in a couple's life. It is uplifting to be around them and their family as they share in the joy. We love adding to that experience." Music is often one of the overlooked aspects of a wedding, but June Cat understands that live music adds a unique touch to an event.
Contact the band via their website, http://www.ilovejunecat.com for information about songs and genres as well as about booking and rates.