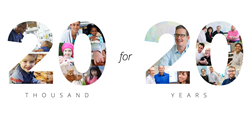 Ontario, CA (PRWEB) December 24, 2014
CU Direct, (http://www.cudirect.com) the nation's leading provider of lending, automotive and strategic solutions to the credit union industry, is celebrating its 20 year anniversary with its 20 for 20 Giveback Campaign benefitting six of the nation's Children's Miracle Network (CMN) hospitals.
The winning CMN hospitals that will each receive $20K from CU Direct are Salt Lake City's Primary Children's Hospital and Flint, Michigan's Hurley Children's Hospital. The four runner-up hospitals that will receive a $5K donation, are: Riley Hospital for Children in Indianapolis, IN; OHSU Doernbecher Children's Hospital in Portland, Oregon; McLane Children's Scott & White Hospital in Waco, Texas; and Connecticut Children's Medical Center in Hartford, Connecticut.
CU Direct launched the 20 for 20 Giveback Campaign contest for credit unions and their members to vote for one CMN hospital to receive a $20K donation. Because of an overwhelming response, the organization increased the final donation amount of $60K, distributed to 6 CMN hospitals.
Credit unions and their members supported the campaign nationwide, which generated over 2.2 million visits to the company's 20 for 20 campaign website, and over 375,000 votes in support of CMN Hospitals. The credit unions that generated the most votes for the winning CMN Hospitals are: America First Credit Union, Utah, ELGA Credit Union and Dort Federal Credit Union, Michigan; Indiana Members Credit Union, Indiana, Fibre Federal Credit Union and Unitus Community Credit Union, Oregon; Scott & White Employees Credit Union, Texas; and Hartford Health Care Credit Union, Connecticut. These credit unions will be invited to join CU Direct in presenting checks to the winning hospitals right after the first of the year.
For more information on CU Direct's 20 for 20 campaign, visit http://www.cudirect.com/cudirect20 or contact bill.meyer(at)cudirect(dot)com.
About CU Direct
Established in 1994, CU Direct has helped the credit union industry fund over $157 billion in loans by being the nation's leading lending and automotive solutions provider for credit unions. Representing more than 1,000 credit unions, CU Direct specializes in solutions that help credit unions generate loans, manage risk and provide value to members, while helping dealers enhance efficiency, increase profitability and generate sales. CU Direct offers a diverse, extensive library of products and services designed to help credit unions advance their lending programs and achieve overall portfolio success. For more information about CU Direct visit http://www.cudirect.com.
###