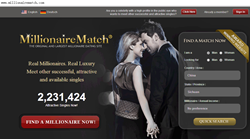 Los Angeles California (PRWEB) December 25, 2014
When dating a millionaire, the holidays, especially Christmas, may seem like the most stressful time of the year. How can people buy a gift for someone who can buy whatever they want or for someone who may already have everything they want? Members of MillionaireMatch.com, the premium millionaire dating website, share their insight on this dilemma.
A large majority of millionaires are actually not concerned with receiving material items. This may sound shocking; however, most millionaires can acquire whatever they need financially but cannot acquire matters of the heart. That being said, a large majority of both male and female members think the best Christmas gift is not only finding someone to spend it with, through MillionaireMatch.com, but also spending that day with that special someone. Since Christmas is a magical and loving holiday, it makes sense that a romantic date or evening to share the love with is all anyone wants.
Other millionaires on the site discussed other gifts that they think their partners would love. Most women and men agreed that jewelry is always a lovely gift that is appreciated and liked by millionaire females, especially if that jewelry is covered in diamonds. Diamond pieces that make a statement include diamond rings, necklaces, or bracelets. For men, most millionaires prefer a luxury item that will make them stand out. Watches were considered as one of the best gifts to purchase with a limited edition Rolex being one of the most desired gifts. Cars were also on the list, and surprisingly the Tesla topped as the most request vehicle.
On Christmas day it won't matter what people give their partner if they truly love the other part and are happy to be spending the day with him/her. Another way to figure out what is the best gift for a millionaire is to simply ask them before the holiday season comes around, so one can surprise them Christmas morning and enjoy the joy that lights up their face.
About MillionaireMatch
MillionaireMatch.com has a user base of over 2 million people and is great place to meet successful singles including CEOs, entrepreneurs, doctors, lawyers, models and beauty queens. MillionaireMatch.com was voted "Best of Web" by Forbes. Whether you're a successful single or looking to meet one, MillionaireMatch.com is the place for you. It is bringing people together for over 13 years.