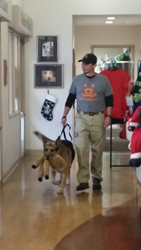 Kanab, UT (PRWEB) December 25, 2014
Bela's holiday wish has been granted. The healthy nine-year-old German Shepherd, whose owner is recently deceased will be cared for by Best Friends Animal Society, the only national animal welfare organization focused on ending the killing of dogs and cats in America's shelters.
Bela's story has captured the hearts of millions of people around the world and over the last several days #SaveBela became the hashtag heard around the world. Now Bela will celebrate a warm, happy holiday with lots of treats, toys and love.
Connie Ley, Bela's owner who passed away on November 25, 2014, had requested that if Bela was unable to be sent to Best Friends Animal Society's no-kill sanctuary in Utah, he be euthanized and buried with her. Best Friends quickly learned of this story through the media and immediately got involved.
"At Best Friends, we believe that the life of every animal has intrinsic value and we will always do our level best to help Save Them All, which is at the core of our mission," said Francis Battista, Best Friends Animal Society co-founder and board chairman. "Our trainers and animal behavior specialists will work with Bela so that he will have every opportunity to enjoy a full and rich life, we are thrilled to be able to save Bela's life."
Over the last week, Best Friends became aware of Bela's temperament from Ley's attorney and friends. Bela has a history of intermittent aggression and Ley was concerned about the appropriate care and management of him after her death given Bela's special needs. Her attorney and her designated friend charged to decide what was best for Bela were unaware of Best Friends experience in providing appropriate care for dogs like Bela and this lack of information was the primary cause for delay in resolving Bela's future.
Bela's situation is an emotional reminder that our animals are members of our families, and families need to plan for their pets who survive them. Best Friends is one of a few animal organizations that offer a lifetime care program. These programs typically guarantee a safe haven or loving home for a pet for life. However, it is something that needs to be planned for in advance, and organized between you and the designated organization.
John Garcia from Best Friends was dispatched to Indiana to transport Bela back to the Kanab-based sanctuary. "So far he's a cupcake just look at his picture," stated Mr. Garcia. "We spent some time getting to know each other before we hopped in the car and now we're both excited to get home."
For more information, please visit BestFriends.org or join us at Facebook.com/BestFriendsAnimalSociety.
About Best Friends Animal Society
Best Friends Animal Society is the only national animal welfare organization dedicated exclusively to ending the killing of dogs and cats in America's shelters. A leader in the no-kill movement, Best Friends runs the nation's largest no-kill sanctuary for companion animals, as well as lifesaving programs in partnership with rescue groups and shelters across the country. Since its founding in 1984, Best Friends has helped reduce the number of animals killed in American shelters from 17 million per year to about 4 million. By continuing to build effective initiatives that reduce the number of animals entering shelters and increase the number who find homes, Best Friends and its nationwide network of members and partners are working to Save Them All®.
To become a fan of Best Friends Animal Society on Facebook go to: http://www.facebook.com/bestfriendsanimalsociety
Follow Best Friends on Twitter: http://twitter.com/bestfriends