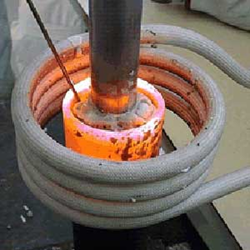 (PRWEB) December 26, 2014
DW-InductionHeating.com (DaWei Induction Heating Co.) is a comprehensive high-tech business specializing in designing, researching and developing, producing and marketing of a series of induction heating equipment. Today, the CEO of the business announces their new series of induction brazing equipments.
According to a senior manager of the company, induction brazing refers to the joining of two or more components using a special filler material and heat. The manager says that there are fundamental differences in the two processes defined by the temperature and the metallurgical reaction between the filler and base metals, although the components are very similar in nature.
The induction brazing equipments from DW-InductionHeating.com is used to change the frequency of the incoming 3 phase mains supply (normally 50Hz to 60Hz) to a higher frequency output typically between 1kHz to 12mHz.
With the induction brazing equipments, users can have a precise control over the position and temperature of the joint zone, which helps to lead to more predictable results. Another significant benefit is the reduced energy costs due to the efficiency of the induction heating process.
The company's sales manager says, "Our new models are ideal for the global customers because they are much more convenient to use and have high efficiency. Each of them is also available for the low prices that buyers have come to expect from the online retailer."
DW-InductionHeating.com products are famous for affordable price, easy operation and maintenance. The business promises to make every effort to create premium quality products for its global customers.
About DW-InductionHeating.com
DW-InductionHeating.com is a well-known online supplier of useful induction heating machines. With an aim of helping worldwide people get high quality items at the lowest possible prices, the company often provides huge price cuts for its machines. For DW-InductionHeating.com, customer satisfaction is always the most importantly issue. All its products are made with durable materials.
For more information about the company's latest products, customers can just visit: http://www.DW-InductionHeating.com.com.