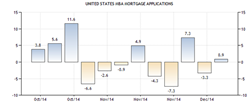 Home sales and prices are relatively higher in the summer and lower in the winter
Chicago, IL (PRWEB) December 26, 2014
Peoples Home Equity, a Midwest based lender, was not surprised to see that monthly new homes sales declined for the second consecutive month. However, the lender was pleased to see the latest mortgage application announcement showed a weekly rise.
The U.S. Census Bureau released its latest November new home sales report on Tuesday, December 23rd. The announcement showed the new home sales fell -1.57% from an annual pace of 445,000 in October to 438,000 in November. The consensus forecast was for new home sales to be reported between 454,000 and 460,000. However, Peoples Home Equity was not surprised by the lower than expected figures. The lender knows that real estate trends seasonally. Home sales and prices are relatively higher in the summer and lower in the winter. Regionally, some areas were hit harder than others, "the Northeast recorded the highest drop (-12 percent), followed by sales in the South (-6.4 percent) and the Midwest (-6.3 percent). Sales in the West grew 14.8 percent."
On Wednesday, the Mortgage Bankers Association announcement an uplifting report showing that home loan applications increased 0.9% for the week ending on December 19th. A graphic of the weekly performance of mortgage applications can be found on TradingEconomics.com. One will notice that for most of October and November, applications have been falling. However, Peoples Home Equity expects some random surges of applications this winter, particularly near the end of winter. Why? As winter ends, Americans must finish their taxes. More Americans will file higher incomes next year thanks to new found jobs and higher wages in 2014. Subsequently, lenders like Peoples Home Equity will approve for applications and the housing market will become more active and expensive. If one knows they can get approved for a mortgage after simply file their taxes early in 2015, then do so! Home prices are trending higher and they are expected to rise further.
Peoples Home Equity wishes all prospective home buyers a wonderful holiday season. If in need of a mortgage, consider speaking to a PHE loan officer today at: 262-563-4026.