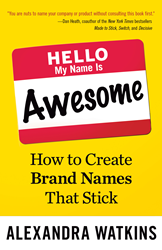 San Francisco, California (PRWEB) December 29, 2014
"Hello My Name is Awesome" by Alexandra Watkins, a leading and outspoken authority on brand names with buzz, has been named a Top Marketing Book of 2014 by Inc. Magazine. The magazine recommends that every entrepreneur read the groundbreaking books on their list for how to market themselves, their product, and their company.
"I'm thrilled that 'Hello My Name is Awesome' was named a top marketing book for 2014 by Inc.," said Watkins. "Every year, six million companies and more than 100,000 retail products are launched. This honor is indicative of the market need and desire for step-by-step guides for developing names that spark consumer interest, enhance the brand, drive purchasing decisions and ultimately, impact the bottom line."
In the book, Watkins, who has delivered thousands of fresh, unexpected names and taglines for all types of organizations from small businesses to enterprises worldwide, shares her rule-breaking secrets for creating effective brand names that stick.
She shows readers how evaluate a potential name using her SMILE and SCRATCH Name Evaluation Test—acronyms representing the positive and negative qualities to look for. Good names make consumers smile, Watkins says in the book. A great name is suggestive, evoking a positive brand experience. It's meaningful – customers "get it." Ineffective names make customers scratch their head. They're spelling-challenged, she writes, "looking like a typo or with a strange phonetic spelling that is impossible to remember."
In "Hello My Name is Awesome," Watkins also provides up-to-date advice, like how to make sure that Siri spells a name correctly and how to nab an available domain name.
The book, published in September, is already a best-seller and is being adopted into business school curriculums and writing programs at Stanford and UCLA. For more information on "Hello My Name is Awesome," visit http://awesomebook.eatmywords.com/.
About Alexandra Watkins
For the past 20 years, Alexandra Watkins has been focused on enabling companies to create unforgettable brand names and taglines that make powerful emotional connections and generate revenue.
Through her consultancy Eat My Words, she has delivered thousands of names and taglines that are memorable and buzz-worthy, while also being federally registrable and legally protectable. Some of the names she and her team have developed include Spoon Me for a frozen yogurt franchise, Bloom for an energy drink, Smitted for an ice cream parlor, Church of Cupcakes for a cupcake shop, Copilot for a ski training system, Aviator for a web browser and many more.
Frequently quoted in the press, Alexandra has been featured in The Wall Street Journal and The Economist and was recently interviewed on Fox News. A sought after presenter, she has spoken at the Stanford Graduate School of Business, Berkeley's Haas School of Business, USF School of Management and San Francisco State, among others. She has also entertained audiences and entrepreneurs at the Proctor & Gamble alumni associations, In-House Agency Forum, local Chambers of Commerce and more.
Prior to Eat My Words, Alexandra was an advertising copywriter, working at leading ad agencies up and down the West Coast, including five years at Ogilvy and Mather, where she helped launch Microsoft Windows.