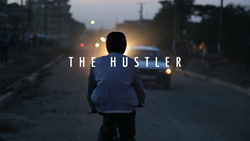 In a city full of movie makers, studios, companies and talented artists, New Filmmakers Los Angeles has shown that there is still a void to be filled showcasing independent filmmakers. - Alex Ben Block, The Hollywood Reporter
Los Angeles, CA (PRWEB) December 30, 2014
"More than anything we wanted to make a movie that had one foot in reality. That's something we as filmmakers like and think is interesting as audience members as well," Seth Rogan defended his controversial film, 'The Interview' while being interviewed on the finale of 'The Colbert Report.' Rogan seems to speak for a rather large portion of contemporary filmmakers. Recent popular releases such as 'Wild' and 'Unbroken' also support the idea that filmmakers strive to integrate a taste of reality in their productions. What better way to capture and convey that sense of authenticity, than by a documentary film? NewFilmmakers Los Angeles will be hosting an event on January 10th, 2015 honoring seven documentaries that have--not just one--but both feet in reality.
Details on the featured documentaries can be found below.
EPHEMERAL CITY directed by Philip Davis
The streets of New York come alive in this beautiful feast of sounds and visuals.
Davis contributed to notable works such as "Notes on a Scandal" and "Alien³" prior to achieving success with his latest production, "Ephemeral City." The documentary was an official selection at a number of film festivals including Hoboken International Film Festival (2014), Miami Short Film Festival (2013), Manhattan Film Festival (2014), NewFilmmakers New York Winter Fest (2014), and Indie Fest USA (2013). Additionally the short documentary was a nominee for Best Experimental Film at the 2013 Miami Short Film Festival and a winner at The Indie Fest.
THE PAST IS IN THE PRESENT: AT HOME WITH GUNTHER SCHULLER directed by Paul Sanchez and Mary Trunk
A short documentary film portrait of MacArthur Genius and Pulitzer Prize winning composer, Gunther Schuller. During this intimate visit, Schuller reveals his creative process, his messy house, the pain of losing his wife and the joy of staying busy. In his own words, at the ancient age of 88, he is still learning how beautiful and mysterious the world is.
Married couple, Sanchez and Trunk, founded Ma and Pa Films, where they produce, shoot, direct, and edit documentaries and shorts, like this one.
Sanchez's resume boasts several popular television programs and feature films: "How to Get Away with Murder", "Devious Maids", "Mad Men", "Oz the Great and Powerful", "Scandal", "The Hangover Part II", "Burlesque", "3:10 to Yuma", "Spider-Man 3", "Walk the Line", "The Matrix Reloaded", "The Matrix Revolutions", "Patch Adams", and "Mrs. Doubtfire" to name a few.
Meanwhile, Trunk, a 15-year-experienced documentary filmmaker, made her own mark on the film world: Prior to "The Past is in the Present," Trunk's feature-length documentary, "The Watershed," received international acclaim, with over 30 film festival screenings across the globe, and taking home more than ten Best Documentary and Special Jury Awards.
CHELSEA'S LIGHT directed by Bruce W. Caulk
Tyler King was just 13 when his teenage sister, Chelsea King, disappeared after setting out for a run in a community park in broad daylight. Law enforcement and thousands of volunteers searched for days, until they finally found her body in a shallow grave just off the trail she was running on. Chelsea was the victim of a horrific crime committed by a convicted sex offender who repeatedly violated parole and plead guilty to taking Chelsea's life—a heartbreaking reality that would send Tyler on a soul searching mission for answers.
Caulk, president of Intelliscape Films, LLC a digital media company, is a two-time Emmy and six time Telly winning director. SoCal Film Fest (2014), Naperville Film Festival (2014), Hollyshorts (2014), and San Diego Film Festival (2014) all featured Caulk's expressive documentary as an official selection. Caulk's "Chelsea's Light" has helped to generate a great deal of awareness on the matter of sex offenders and child predators, leading to legal changes in the state of California.
THE HUSTLER directed by Jon Kasbe
Moses is a hustler. He makes bracelets, hats, bags, and anything else that will sell to survive in Nairobi, where hocking is illegal. Creating music has always been something he loved. Now he is learning how to hock beats to make a living, and to create positive change.
It has been just over a year since Kasbe graduated from University of North Carolina at Chapel Hill with a B.A. in media productions. Despite this little time frame, Kasbe has accomplished what some people strive for in a lifetime. During his young film career, Kasbe has lent his creative talents to media projects; he has been honored with 30 awards and official selections, including an Emmy nomination and a Telly awards official selection.
FLY COLT FLY: THE LEGEND OF THE BAREFOOT BANDIT directed by Adam Gray and Andrew Gray
"Fly Colt Fly" is a feature length documentary about teenage fugitive Colton Harris-Moore, whose superhuman ability to evade capture by stealing airplanes and living in the wilderness made him the modern day folk hero of a new generation. Fusing documentary, graphic-novel style animation, and dramatic recreations, the film contrasts the story of a real kid who fell into burglary to keep from starving with his mass media doppelgänger, The Barefoot Bandit.
Brothers, Adam and Andrew, have made eleven television documentaries in addition to their latest documentary "Fly Colt Fly." The documentary premiered at the Toronto International-- Next Wave Film Festival, and was later featured at the Seattle International Film Festival. The talented crew behind this documentary includes producer, Michael Cowan (Beowulf & Grendel, Iron Sky), art and animation director, Samuel Chou (Osmosis Jones, Eight Crazy Nights, 101 Dalmatians II), and production manager, Erika Knowles (Casino Royale, Cash Cab, Project Runway, The Biggest Loser, The Apprentice).
THE LITTLE HOUSE THAT COULD directed by Mars Roberge
A group of young, lost, rebellious outsiders are given a home in New York City by Emmy Award-winning fashion stylist, Patricia Field, and together take on the world, changing it forever.
This feature length documentary was not only a LGBT feature nominee at Queens World film festival (2014), but it was an official selection at 11 film festivals, namely Censured in Canada Film Festival (2015), Outview Festival (2014), the OUT Twin Cities Film Festival (2014), 25th Annual Honolulu Rainbow Film Festival (2014), Mix Mexico Film Festival (2014), MICGénero International Film Festival (2014), B'more QFest (2014), GAZE 21st Dublin International LGBT Film Festival (2013), Indianapolis LGBT Film Festival (2013), and IX Cinema Mostra Aids Film Festival (2013), and framline37 San Francisco International LGBT Film Festival. The Gray brothers worked with original music composer, Lionel Cohen (The Real World, The Hills, Chopped, Kourtney & Kim Take New York, American Idol, FOX 25th Anniversary Special, True Life, The Real Housewives of Miami) and sound mixer Tom Stamatio (South Park, The Aryan Couple, Top of the World).
BERT KREISCHER: I AM THE MACHINE directed by Jeff Johnson and Jeff Hinman
A look at the life on the road of successful stand-up comedian, Bert Kreischer. Backstage, on stage and everywhere in between, this documentary is real, authentic, honest and very funny.
Johnson and Hinman funded their documentary through Kickstarter, where they originally decided on raising $20,000. That goal was surpassed, as they raised $31,000. The film industry is nothing new neither Johnson, nor Hinman. Johnson's Burbank-based business, called Outpost Media, makes trailers for entertainment companies such as Lionsgate. Hinman has also been involved in the entertainment industry as an editor at major studios like Lionsgate and Disney. After three years in-the-making, "Bert Kreischer: I am the Machine" premiered at Leammle NoHo 7. It was later an official selection at DocuWest International film festival (2014) and the Tampa Bay Underground Film Festival (2014).
Located in Downtown LA, AT&T Center is the Presenting Venue Sponsor of NewFilmmakers LA film festival (NFMLA). Founded in 2007, NFMLA has screened over 900+ films from over 56 countries. NFMLA boasts over 30,000 supporters locally. The organization provides a forum where filmmakers can be recognized with title supporters Sony Pictures Entertainment, TheWrap, SAG-AFTRA, Variety Magazine and LA Weekly.
For information or to reserve tickets to the NewFilmmakers LA January 10th screening, please visit http://www.newfilmmakersla.com.