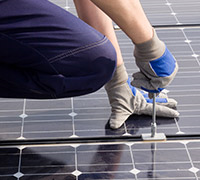 We plan on reaching out to homeowners helping educate them on the familiar financial and environmental benefits of renewable energy.
(PRWEB) December 29, 2014
The golden state of California recently reported a decrease in the unemployment rate bringing the number to an all-time low since the great recession began in the late 2000's. The California Employment Development Department released reports showing the rate is down 7.2% from 8.4% with over 300,000 jobs added in the past year. A recovering market where more Californians are working again leaves extra wiggle room for consumers to choose where they spend their hard earned money at the end of the month. With industries growing across the board, jobs are opening up and money is being; made, saved, and spent much more than recent years. These positive changes in the California economy are huge factors that solar executives like Robert Klein from BSPS, are basing the foundations of their next campaign off of.
As of recently, solar companies such as BSPS are enjoying lower manufacturing costs due to advancements in production which helps make renewable energy systems more affordable for homeowners. Analyzing such specific market signals led Robert Klein to gear up for a big home solar panel campaign at BSPS in 2015, which will see more job growth, new financing programs, and more focused outreach. According to Robert, lower production costs and a healthier market with less unemployment is giving BSPS and its investors the confidence they needs to push for a strong campaign in 2015.
"California has seen an increase of 344,000 jobs over the course of the last year, showing big potential for companies like us at BSPS to expand. I believe the more money Californians make, the more they will want to save, and in turn be able to spend. Our goal is to expand our outreach, offer new company positions, and install more residential PV systems than any year in our history. We plan on reaching out to homeowners helping educate them on the familiar financial and environmental benefits of renewable energy," explains Robert.
Following the market and building a campaign around it has worked for many big corporations in the past. Success in such campaigns that are fueled by consumer and market behavior rely heavily on awareness. Robert is aiming to bring that awareness to people.
"Hard working Californians need to be aware that there are jobs out there for skilled contractors, electricians, and office staff who were laid off during the recession. On the other hand, homeowners need to be aware of the clear financial and environmental advantages our solar panels company has to offer them," explains Robert.
2015 is projected to be a great year for the renewable energy sector. With the unemployment rate falling, advancements in solar panels installation technology, job openings, and lower system costs, we look on to a year of expansion on all levels from BSPS.