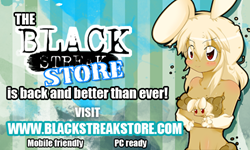 Youngstown, OH (PRWEB) January 07, 2015
Teen-Publisher and Art Studio, Black Streak Entertainment, has renovated and re-launched the company's online store, blackstreakstore.com. In addition to a brand new mobile-friendly website design, the store boasts additional new features such as a discounted product of the month highlight, easy shopping navigation menus, videos highlighting Black Streak's top products, access to all of Black Streak Entertainment's social networking pages and accounts, and direct access to Black Streak Entertainment's blog.
Black Streak Entertainment publishes teen fiction novels, comics, and graphic novels featuring diverse characters of various ethnicities, skin tones, and social backgrounds, including mixed-race characters. Black Streak also produces products like button-pins, stickers and art prints featuring these characters. Every character and published work under the Black Streak Entertainment label are the brainchildren of Justin and Terry L Raimey.
Black Streak Entertainment seeks to do what modern-day mainstream youth entertainment refuses to - that is, to represent kids and teens of color through creating appealing characters and storylines that shatter stereotypes and encourage people to think outside of the box. In a world bombarded with monopolized pop-culture and over-exposed brand names, Black Streak brothers Justin and Terry L Raimey also seek to bring more variety to the world of comics, teen fiction, animation, and licensed youth products—variety in the cultural appearances of characters and storylines that are relatable to American minorities from all socioeconomic classes.
To learn more about Black Streak Entertainment's books, comics and products, visit their official website at http://www.blackstreakstore.com. For press inquiries, please email press(at)blackstreakent(dot)com.