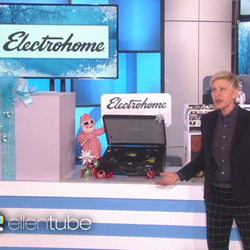 "This is a great opportunity for Electrohome to reach 'Ellen's' audience and encourage the rediscovery of vinyl music" -Deepak Jain, Managing Director of Electrohome
Niagara Falls, Ontario (PRWEB) December 31, 2014
Just in time for those looking for the perfect Holiday gift, Electrohome and The Ellen Degeneres Show partnered to give the gift of music on Ellen's annual "12 Days of Giveaways" campaign, where each member of the audience received an Electrohome Archer Turntable.
In Day 8 of the 12 day spectacle, all 400 of the in-studio audience members received the Archer turntable and The Beatles in Mono Vinyl Box Set to enjoy on their new record player. Social followers of Ellen and Electrohome also had an opportunity to experience a taste of the giveaway with 25 additional record players given away to online social followers.
Talk show host Ellen DeGeneres announced the giveaway on the December 15th episode, "This gift lets you play your vinyls and all the music from your phone or tablet - you're getting this Electrohome record player."
"This is a great opportunity for Electrohome to reach 'Ellen's' audience and encourage the rediscovery of vinyl music," said Deepak Jain, Managing Director of Electrohome. "Music is a pastime very few people say they wish they did less of. With this type of exposure, we look forward to encouraging more people to start listening to vinyl music."
The Archer turntable plays all of your favorite vinyl albums and even lets you play music from your smartphone, tablet, or USB drive. It has built-in stereo speakers and delivers full-range high quality sound. Backed by over 100 years in developing audio systems, guests truly received a one of a kind stylish turntable. The turntable is available for purchase on Electrohome's Website.
About Electrohome
For over 100 years, ELECTROHOME has been a leading manufacturer of consumer electronic products. Electrohome has been welcomed into homes around the world for generations. Today, Electrohome manufacturers record players, karaoke systems, and clock radios. Electrohome products are available through their website http://www.Electrohome.com