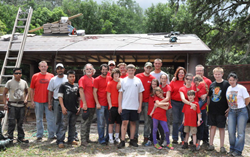 Our hope is, by coming into contact with our business, our customers' quality of life improves. It's about finding the significant moment or milestone in the customer experience and accentuating it, making it that much better.
Orlando, Florida (PRWEB) December 29, 2014
Universal Roof & Contracting is continuing to grow and contribute to the community by creating 33 new jobs just this year. They have added to their sales force, commercial, production, and administrative teams with plans for significant growth in 2015.
The company congratulates outstanding team members Alejandra Gonzalez, Mario Silva, Chuck Przychocki, Antonio Valdivia, Steve Pearson, Craig Harrell, and Warren Mellick for their nomination for the "Wizard Award." The Wizard Award is a home improvement industry award bestowed by the Certified Contractors Network (CCN) upon those who demonstrate skill and accomplishment in a given area. Award winners will be announced at the Richard Kaller Wizard Award Dinner at the CCN Winter Conference, January 8-10, 2015 in Tampa, FL.
Company President, Jared Mellick explains, "Our goals include expanding our reach throughout the state of Florida and beyond, positively influencing every life we touch. Each month our associates meet to set goals, review our progress and share "X Factor" stories of how individuals have made a difference in the lives of our customers and the community. Our 'X Factor' is that which sets us apart from our competitors by treating our customers like family. We maintain a standard of excellence by surpassing expectations in our work and by serving our community through Universal Contracting Community Works.
"We aim to make our community a better place in which to live. Our hope is, by coming into contact with our business, our customers' quality of life improves. It's about finding the significant moment or milestone in the customer experience and accentuating it, making it that much better.
"At the end of every team meeting" he says, "we reflect on a few of the things each of us did to help make the customer experience and interaction with people in our community better."
James, Universal Roof & Contracting's Transportation Supervisor, invariably seeks out ways to bless people. He is a humble man filled with gratitude having received a helping hand in his own time of need. He arrives early, before a job begins, and returns near completion while taking pride in maintaining the company's standard of excellence. James has shared many X Factor stories this year about times he was able to lend a helping hand to customers and neighbors alike.
"One of our customers," he recalls, "recently had a major knee operation. Her yard man had come to cut her lawn the day before we arrived with our trailer of materials." James noticed her concern about the uncut grass left behind when, at the job's finish, they moved the trailer. She was practically unable to walk and certainly unable to mow the grass. Without hesitation, James attended to her lawn.
"One less thing for her to worry about during her recovery. All in a day's work."
During another job in Metro West, James gladly offered assistance to a customer who needed help moving some furniture into his garage. The homeowner mentioned that they were upgrading and looking for someone who needed furniture. James recalled a neighbor in need and later loaded and delivered the complete living room set – couch, love seat, and tables. The customer appreciated the extra room and was pleased the gift of furniture had gone to a good home.
Jeff and Stacy, two members of the Universal Roof & Contracting management team -- daughter and son-in-law of company CEO -- were enjoying an evening out at a local restaurant. Just as they were finishing their meal, they heard commotion nearby. Realizing someone dining at another table had collapsed, they rushed over to help. A man in his 60's was lying unresponsive on the floor. Jeff, who had taken an industry CPR training course, administered chest compressions until paramedics arrived.
According to one medic, "He very well may have saved the man's life."
While not everyone in the company may claim to have saved a life, common X Factor stories include helping stranded motorists, buying food for someone in need, and offering prayers and support at the hospital bedside of a customer or family member's funeral service. Blessed and inspired by the generous spirit of the company leaders, Universal Roof & Contracting associates are eager to pay it forward and serve the customers and people they come into contact with.
About Universal Roof & Contracting
Jared Mellick and his father, Ken Mellick are the owners of Florida's premier construction company, Universal Roof & Contracting, a family-run business which has been serving Florida homeowners for more than 20 years. Universal Roof also recently expanded their services into the city of Jacksonville. Services include free roof inspections, free no-obligation roof estimates, roof repair, roof replacement, new roof, exterior siding, windows, and home improvement, including kitchen and bath remodeling. Jared and Ken also host a local radio home improvement and construction talk show on popular Orlando talk radio station WDBO (FM 96.5) and WOKV (FM 104.5) in Jacksonville called "In the House with Ken & Jared."
For more information on Universal Roof & Contracting and its services visit http://www.universalroof.com