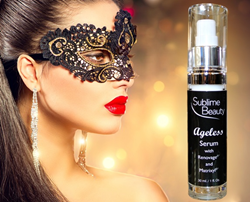 This serum fights the 8 major signs of aging. What a great product to kick off the new year for skin.
St. Petersburg, FL (PRWEB) December 29, 2014
Start improving skin well-being in the new year using the Ageless Serum with Renovage® and Matrixyl®. Sublime Beauty® offers the Ageless Serum in a special New Year's Sale now on Amazon.
"Our French-inspired products often include wonderful ingredients developed in France, like Renovage® and the peptide Matrixyl® because they work well," says Kathy Heshelow, founder of Sublime Beauty®, who lived in Paris for 16 years.
Renovage® is a kind of new-age fountain of youth, says Heshelow, as it efficiently fights the 8 major signs of aging. It will:
1)Restore Skin's Moisture Balance & Hydration
2)Reduce age spots or hyper-pigmentation
3)Increase elasticity and plumpness
4)Reduce pore size
5)Guard against sagging and thinning
6)Increase skin's effectiveness and functioning
7)Reduce redness and inflammation
8)And of course, reduce fine lines and wrinkles
Differences will be seen in the skin within 30 days with twice daily use.
Take 20% off at Amazon with COUPON CODE RENOV20X this week only.
"This is a serum that can also be used as a day and night cream," says Heshelow.
ABOUT: Sublime Beauty® is a quality skincare company that focuses on products to "Age Well". Ingredients help to boost collagen, hydrate, relax wrinkles and improve skin. A niche includes healthy Skin Brushes. The company webstore offers free standard shipping and a VIP Club. Sign up for Secret Sales on the site. Products also available on Amazon