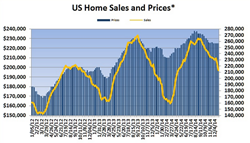 Peoples Home Equity expects both categories, median home sales, and prices to outperform year ago levels as we tread deeper into winter.
Chicago, IL (PRWEB) December 27, 2014
Lenders like Peoples Home Equity were indifferent to the latest -4% decline in week-over-week median home sales. The reasoning behind the unconcerned opinion is that, yes home sales have fallen, but median home sales prices remained unchanged, for the second consecutive week.
According to the latest "National Home Sales Snapshot" from DQnews.com, seasonality is certainly at play. Home sales are falling just like any other year, however median home sale prices are holding up. The lack of national real estate inventory for sale is propping up home prices due to overweight demand. Demand is high because buying a property in America now is frequently less expensive than renting, especially for young first time home buyers. Demand for housing is also high due to mortgage rate trending below 4%. Thus, home sales may be drying up due to winter weather and recent scary dips in the stock market, but home prices have remain unchanged due to so many American's willing to purchase a home and stop paying rent.
Compared to a year ago, median home sales rose from 2.1% last week to 2.4% this week. This means even though sales have fallen a whopping -4% week-over-weeks they still remain 2.4% higher than last year, this shows that the housing market is strengthening. However, median home sale prices fell from being up 2.7% compared to a year ago last week, to just 2.3% this week. Peoples Home Equity expects both categories, sales, and prices to outperform year ago levels as we tread deeper into winter. Americans know great deals are found in the low demand months of December, January, February, and March and they are eager to buy if they can obtain the financing.
For many first-time home buyers, getting approved for a mortgage is very difficult even with a high credit score. Peoples Home Equity loan officers understand the current environment and work diligently to find every possible way to approve all of its borderline eligible applicants.
Contact a Peoples Home Equity loan officer today at: 262-563-4026