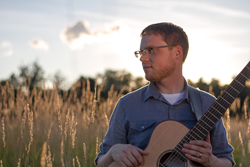 For me it's important to always be open to new textures, and I have had a great time exploring the fresh sounds that only The Engle can deliver!"
(PRWEB) January 07, 2015
Always creating and finding new ways to create, Trevor Gordon Hall is now excited to announce that he will be endorsing "The Engle", this innovative guitar hammer creates new tones and rhythms, never fully explored on the instrument. "The Engle", created by American manufacturers Engler Innovations, provides players with a fresh, creative approach to a versatile instrument.
If there is a sound to be made on the guitar, Trevor Gordon Hall will find it. A force not to be overlooked in the guitar world, the Philadelphia-based performer is known for utilizing the instrument's fullest creative and compositional potential. Recently having been rated one of the world's top 30 guitarists under 30 years old by Acoustic Guitar Magazine, he effortlessly creates endless timbres and textures by utilizing all the possibilities of the instrument. His focus on composition guides listeners through an igniting experience of music that isn't just heard but felt. This signature sound has led him to share the stage with artists such as Pat Martino, Phil Keaggy, Don Ross, Andy McKee, The California Guitar Trio, Billy Cobham, and many more. In fact, Hall is pushing new boundaries beyond the guitar's initial capabilities, having created what he refers to as the "Kalimbatar", a guitar that also holds a 2-octave Kalimba (African Finger Piano).
Having hammered-out new works of art using "The Engle", Trevor feels confident about the tool's contribution to his writing: "The Engle is a great tool for the guitar that has such a unique range of possibilities. For me it's important to always be open to new textures, and I have had a great time exploring the fresh sounds that only The Engle can deliver!"
Most recently, Trevor Gordon Hall teamed up with fellow-guitarist Luca Francioso to demonstrate their use of The Engle. Check out the video to the top right.
Purchase The Engle at: http://bit.ly/1xmfQp0