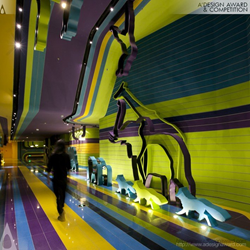 Como, Italy (PRWEB) December 28, 2014
A' International Design Award and Competition is pleased to announce that the Cinema Interior design work "Tianjin Insun Lotte Cinema" by One Plus Partnership Ltd has been granted the prestigious Golden A' Design Award in Interior Space and Exhibition Design Competition.
About Tianjin Insun Lotte Cinema
One Plus Partnership Ltd, the creative design team behind the award winning interior design project "Tianjin Insun Lotte Cinema," said: "Located at the Cultural District, the contemporary Tianjin Grand Theater provides an ambiance that highlights theater's important cultural position and openness. All of the lines used in the interior decoration converge and are connected at one single point, which gives a modern look. The convergence of lines represents the fact that the Cinema is a cultural hub where all people gather." Learn more about this design: https://competition.adesignaward.com/design.php?ID=30535
Creative Team for Tianjin Insun Lotte Cinema
Tianjin Insun Lotte Cinema was designed by Ajax Law and Virginia Lung.
The Golden A' Design Award
The Golden A' Design Award is a prestigious award given to the top 3 percentile designs that have attained an exemplary level of perfection in design. Entries to the A' Design Award and Competition are peer reviewed and anonymously judged by an expert jury panel of established scholars, design professionals and editors who peer review and score entries on predetermined judging criteria. Laureates of the A' Design Award and Competition are granted a series of PR and publicity services, such as utilization of the Buy Sell Design platform or the Design Mediators. Award-winning designers are further invited to attend the gala-night and award ceremony in Italy to receive their certificates, yearbooks and trophies.
About A' Design Award and Competition
Since its foundation in 2009, The A' International Design Award and Competition has been highlighting the excellent qualifications of best designs, design concepts and design-oriented products worldwide. The A' Design Award and Competitions are organized and awarded annually and internationally in multiple categories to reach a wide, design-oriented audience. The ultimate aim of the competition is to push designers, architects and brands worldwide to create superior products or projects that benefit society. Learn more at: http://www.whatisadesigncompetition.com