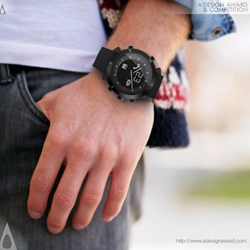 Como, Italy (PRWEB) December 28, 2014
A' Design Award and Competition is pleased to inform that the smart watch Cogito™ Classic by Connectedevice Ltd has been awarded with a prestigious Golden A' Design Award in Jewelry, Eyewear and Watch Design Competition.
Winner Design: Cogito™ Classic
Connectedevice Ltd, the creative team behind the awarded smart watch Cogito™ Classic said "The COGITO watch is a mixed Analog and Digital watch with two completely independent systems. Each system has its own battery, to keep the watch in reasonable thickness and make the battery life last for about a year is hardest part of the design." Learn more and download high-resolution photos at: https://competition.adesignaward.com/design.php?ID=30560
The Golden A' Design Award
The Golden A' Design Award is a prestigious award given to top 3% percentile designs that have accomplished an exemplary level of quality in design. Entries to the Watch design awards are voted on predetermined evaluation criteria such as functionality, ergonomics, engineering, presentation, innovation, usability, fun details, and technology by a grand jury panel consisting of design scholars, media members and professionals. Laureates of the A' Design Award & Competition are granted a series of PR and publicity tools such as access to Design Mediators and Design Mega Store to celebrate the status of winning the accolades. Entries to the A' Design Award and Competition are ongoing and results are announced annually on April 15. Award winning designers are invited to attend the gala-night in Italy to collect their trophies, yearbooks and certificates.
About A' Design Award and Competition
A' International Design Award and Competition aims to highlight, recognize and promote the best designs, design concepts and design oriented products.worldwide in order to create a global awareness and understanding of good design. A' Design Award and Competition is organized and awarded annually and internationally in multiple categories to reach a wide, design-oriented audience. The ultimate aim of the A' Design Accolades is to push designers, brands and product manufacturers to create superior products that benefit society. Learn more about the A' Design Competition at: http://www.whatisadesigncompetition.com