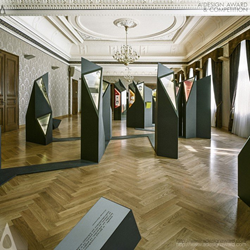 Como, Italy (PRWEB) December 28, 2014
A' Design Awards is pleased to announce that the project Multimedia Exhibition Lsx20 by Design Studio H2e has been honored with the famed Golden A' Design Award in Interior Space and Exhibition Design Competition.
Winner Design: Multimedia exhibition Lsx20
Design Studio H2e, the creative design team behind the awarded multimedia exhibition Lsx20, explains, "A multimedia exhibition was devoted to the 20th anniversary of the re-introduction of the national currency lats. The purpose of the exhibition was to introduce the framework of the trinity on which the artistic project was based, namely, banknotes and coins, the authors - 40 outstanding Latvian artists of various creative genres - and their artworks. The concept of the exhibition originated from graphite or lead that is the central axis of a pencil, a common tool for artists. Graphite structure served as the central design element of the exhibition." Learn more about this design: https://competition.adesignaward.com/design.php?ID=30597
Design Team for Multimedia exhibition Lsx20
Multimedia exhibition Lsx20 was designed by Design studio H2E, Designers – Holgers Elers, Ingūna Elere, Graphic designers – Tatjana Raičiņeca, Ingūna Elere and Project team – Anete Šalma, Tatjana Raičiņeca, Līga Ansone, Krišjānis Vots, Dagnija Balode; Realization - H2E, Solavi, JURA PODNIEKA STUDIJA, MD Noass; Curator - Ramona Umblija; Client - The Bank of Latvia
The Golden A' Design Award
The Golden A' Interior Design Award is a prestigious award given to top 3% percentile designs that have accomplished an exemplary level of perfection in design. Entries to the A' Interior Design Awards are peer reviewed, anonymously voted and judged by an expert jury panel of established design professionals, prominent academics and influential press members. Laureates of the A' Design Award and Competition are given a series of public relations and marketing services such as inclusion in Design Classifications platform to promote and support the winners. Awarded designers are given a special award trophy, design excellence certificate and hardcover yearbook of best designs. Winners are exhibited in Italy, Ireland and Holland.
About A' Design Award and Competition
Since its establishment in 2009, the International A' Design Award and Competition aims to highlight the excellent qualifications of best designs, design concepts and design oriented products worldwide by highlighting, promoting and recognizing superior design works in all industries. A' Design Award and Competitions are organized and awarded annually and internationally in multiple categories to reach a wide, design-oriented audience. The ultimate aim of the A' Design Award & Competition is to create a global awareness for good design practices and principles, as well as to push designers to create better products that benefit society. Learn more about the A' Design Awards: http://www.designaward.com