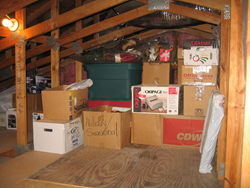 The EPA has warned that there is no 'safe' level of asbestos exposure.
Raleigh, NC (PRWEB) December 29, 2014
Storing holiday decorations in an attic with asbestos-containing insulation could be a recipe for mesothelioma risk, according to a new article posted by Surviving Mesothelioma. Click here to read the full article on their website.
The EPA estimates that millions of older homes contain Zonolite insulation, a type of crumbly vermiculite insulation known to be tainted with the mineral asbestos.
Disturbing this type of insulation, such as when accessing or storing holiday decorations, can create asbestos-containing dust and raise homeowners' risk for deadly malignant pleural mesothelioma.
"Although the amount of asbestos in vermiculite insulation is very small, the EPA has warned that there is no 'safe' level of asbestos exposure," says Alex Strauss, Managing Editor of Surviving Mesothelioma. "We believe that it is better to be safe by staying well away from this type of insulation, even if it means storing the holiday boxes in the closet instead."
The Zonolite brand of vermiculite insulation was sold from the 1940s through the 1990s and looks like small, lightweight silver-grey pebbles.
To avoid creating potentially dangerous dust around this type of insulation, homeowners should avoid walking on it and should work with an asbestos abatement professional if it needs to be removed.
For more information on the mesothelioma risks of Zonolite insulation and the safe storage of Christmas décor, see Avoid Mesothelioma Risk When Storing Holiday Decorations, now available on the Surviving Mesothelioma website.
Environmental Protection Agency website, Asbestos Information, http://www2.epa.gov/asbestos
For nearly ten years, Surviving Mesothelioma has brought readers the most important and ground-breaking news on the causes, diagnosis and treatment of mesothelioma. All Surviving Mesothelioma news is gathered and reported directly from the peer-reviewed medical literature. Written for patients and their loved ones, Surviving Mesothelioma news helps families make more informed decisions.