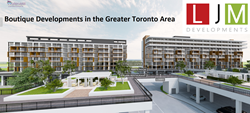 We are set for expanding our portfolio and undertaking further developments in the GTA, more particularly in the Western corridor that leads up to Saint Catharine's. We believe there will be a conduit of buyers moving westward over the next 3 to 5 years
Burlington, Canada (PRWEB) December 29, 2014
Burlington, ON – December 29th 2014: LJM Developments marked a successful year 2014 with major milestones that include launch of Waterview Condominiums in Grimsby, and groundbreaking of Appleby Gardens Condominiums in Burlington. Looking ahead the developer announced details for Phase 2 of Waterview Condominiums, which is expected to bring an additional 80 condominiums to the luxury complex with updated unit layouts and extension of amenities. The developer tentatively planned an April / May launch for Waterview Condominiums Phase 2.
2015 will also bring to fruition Uptown Center's Phase 3 development, a retail center in Burlington that is home to a number of shops and restaurants that include Starbucks Coffee, and LJM Development's Fraticelli's Italian Bar and Grill. Phase 3 is expected to bring an additional 30,000 square feet of space to the plaza, which will primarily be allocated for office space, and medical centers. The developer also announced details for a boutique office plaza in Mississauga's Lorne Park neighborhood, which will cater to entrepreneurs and small businesses. LJM Developments hasn't confirmed groundbreaking details but does expect activity for Lorne Park Professional Center in 2015, which will bring 10,000 square foot of office space to the area.
"We are set for expanding our portfolio and undertaking further developments in the GTA, more particularly in the Western corridor that leads up to Saint Catharine's. We believe there will be a conduit of buyers moving westward over the next 3 to 5 years, and as such we have identified a number of lands in several towns that include Ancaster, Waterdown, Hamilton, Grimsby, and Saint Catharine's, which we are excited to pursue further in 2015 and beyond" says Liaquat Mian, CEO of LJM Developments.
About LJM Developments
With over a decade of unsurpassed excellence, LJM Developments is a recognized industry leader in real estate development in Canada. The company has developed highly-acclaimed signature projects that are a perfect synergy of world class architectural design and cutting-edge construction quality. LJM Developments has launched key initiatives in major urban centers in Southern Ontario, including Mississauga, Burlington, and Grimsby. The company recently completed Ironstone Condominiums, a 17-storey luxury condominium building in collaboration with Davies Smith Developments in Uptown Burlington. The developer also manages a property management division, which has more than a 100 properties in its portfolio.
####
If you would like more information about this topic or need to make further press inquiries, please contact LJM Developments at 289-245-1900 or e-mail: info@ljmdevelopments.ca