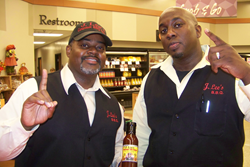 this is not your typical barbecue sauce
Biloxi, MS (PRWEB) December 29, 2014
J. Lee's Gourmet BBQ Sauce hit the ground running in 2014 and has only gained momentum on its way to a record-breaking year. The company's first 30 weeks set a strong tone with 14,862 bottles sold as well as 152 gallons. But that paled in comparison to J. Lee's second 30 weeks sales numbers. J. Lee's Gourmet BBQ Sauce sold 75,138 bottles and 165 gallons and counting from May 2014, to December 2014. That gives a grad total of 81,820 bottles and 317 gallons sold in one year and three months. When the bottles sold from this month's in-store demonstrations are added, this takes the total bottles sold well beyond 83,000 in less than 16 months.
These eye catching numbers are not going unnoticed. Store managers and customers from all over the country are inquiring on how this barbecue sauce is selling at a record pace in the dead of winter. The answer being "this is not your typical barbecue sauce," as stated by several customers at a recent tasting. J. Lee's Gourmet BBQ Sauce is by no means limited to just BBQ. J. Lee's goes well on baked chicken, shrimp, fish, steak, meatloaf, etc. It can be used as a marinade, a dipping sauce, a glaze for your Sunday ham; the possibilities are really endless.
As if the amazing taste and versatility were not enough, J. Lee's is also gluten free and contains no MSG or preservatives. The product is also low in sodium and contains turmeric for weight control and reduction of inflammation. A zero percent fat, heart healthy, true gourmet level product. For more information on J. Lee's Gourmet BBQ Sauce, or to order online,please go the company's website: http://www.jleessauce.com.