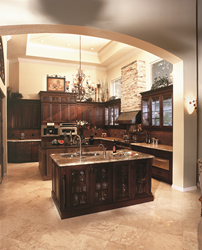 Kitchen Remodeling Trends that will go into 2015
Indianapolis, Indiana (PRWEB) December 30, 2014
The expert kitchen designer of DirectBuy of Indianapolis, Holly Denihan, recently created a video to share the current trends that will continue through the new year. Holly has been the custom kitchen designer for the Directbuy of Indianapolis since 2006. With over 1,000 kitchens designed not only does she have great ideas, she is very up to date with the current trends and what is available for the up to date kitchen.
The popular kitchen cabinetry colors include: white paints, grey paints and stains of all different shades, and also espresso and brown stains with a grey undertone. It is also popular to combine these color options by having white cabinets on the walls and grey island cabinetry
As families create their new kitchen, the current 'family trends' do impact the design. More families are searching for comfortable, casual and functional.
More home designs have an open concept to the living space which makes the kitchen the center of the activities. This is the area where children do their homework, meals are prepared and shared, guests are entertained and the space is opened to the other busy areas of the home.
The cabinetry design selections include more clean lines and larger crown molding. The open concept design works well with cabinets to the ceiling to create more storage space.
Another important item for today's family is accessories that accommodate today's technology. This would include charging stations for all of the family gadgets; tablets, smart phones, computers, etc. A charging station not only makes it easy to charge all of the family's technology, it is a great way to keep cords at hand and out of view.
One can create more storage space by using deep drawers. The big deep drawers are available for dishes with dividers that keep the plates and bowls from falling over as the drawers are opened and closed
Double trash pull out makes it easy to recycle. The regular trash is hidden away from view and pets and a second trash container is conveniently placed in the same pull out to make it easy to separate recyclables.
The drawer microwave also accommodates the open concept kitchen that leaves the family with less wall space. The Sharp's drawer microwave makes it easy to use with the controls on top and at an angle for easy view and usage.
In addition, DirectBuy of Indianapolis has a referral list of preferred installers. Each installer has been approved by the DirectBuy of Indianapolis service staff, for quality installation and service. This list is shared with all of those who would select to save money with DirectBuy of Indianapolis for their kitchen remodeling project and products.
DirectBuy of Indianapolis invites consumers to a Free Savings Seminar to share details on how DirectBuy of Indianapolis can purchase items at direct manufacturing prices from over 700 suppliers. In many cases consumers find they can purchase higher quality products at lower prices.
Schedule a Free Savings Seminar by calling (317)472-9817 before the end of the year and receive a VIP Package at the time of the visit. DirectBuy of Indianapolis is located at 8450 Westfield Boulevard which is close to the Range Line and Westfield Boulevard intersection. This is located just west of the Keystone Fashion Mall.