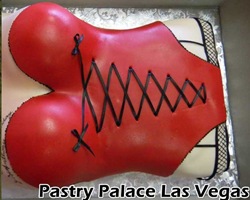 Las Vegas, Nevada (PRWEB) December 28, 2014
Adult Cakes, which is located in Las Vegas, recently announced the launch of its new website featuring cakes with erotic themes and sexually explicit shapes. Their impressive array of fun designs features traditional flavors as well as a generous selection of sophisticated flavors that cater to the adult crowd.
Some of the more unusual cake flavors are Kahlua fudge lemon, white chocolate, chai spice champagne, chocolate hazelnut, and French vanilla German. Cake fillings are available in a tasty assortment as well, and they include chai spice butter, banana mousse, cappuccino, cheesecake, chocolate mint, and orange marmalade.
"Our bakery is designed to offer unique cakes with an adult theme for customers who are looking for something different. Our sexy cakes are meant to add a touch of humor and naughtiness to adult events at which such a cake would be appropriate," stated a representative from the bakery. "If our customers cannot find what they want in our gallery, we are more than happy to create something new, specifically for their event. Our baker is a master of design!"
The gallery section of the "Adult Cakes" website currently features penis-shaped cakes, breast-shaped, torso-shaped, and bottom-shaped cakes in varying degrees of nudity, including fully naked and scantily clothed. Some of these specialty cakes are designed specifically for couples and are perfect for anniversary parties held in an adult setting.
The website offers easy navigation, making it user-friendly. It is possible to order your cake on line, and customers can make deposits by PayPal or any major credit card. Payment can be made in full at the time the order is placed, or full payment can be made at the time the cake is picked up or delivered. Each customer is assigned a support specialist to assist them with the finer details. Interested individuals are invited to visit the bakery's website (lasvegasadultcakes.com) for a look at their current selection.
About Adult Cakes
A locally owned bakery located in Las Vegas, Nevada, Adult Cakes is a family-owned business specializing in erotic, adult-themed cakes for special events. The bakery also offers customization of their naughty cakes, allowing you to request modifications in size, color, and decorative accents.
Adult Cakes
4521 West Sahara Avenue
Las Vegas, NV 89102
info(at)pastrypalacelv(dot)com
702.550.3941
http://lasvegasadultcakes.com/
###