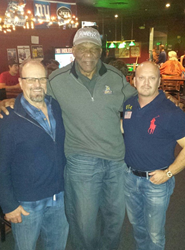 Phoenix, AZ (PRWEB) December 29, 2014
David Gergen CDT/President of Pro Player Health Alliance and Gergen's Orthodontic Lab along with Tom Hershberger, owner of Hershberger Dental Lab have teamed up to engage, teach and inspire dentists who have an interest in treating obstructove sleep apnea. Add to that the promotional element provided by Pro Player Health Alliance and the likes of NFL greats, this seminar will make to be one-of-a-kind, educational and fun for attending dentists in Arizona February 2015.
Mr. Gergen and Hershberger have collaborated on a lineup of speakers and topics, all of whom are the best in class care providers in their respective areas. The speaker lineup will include Dr. Kevin Mueller, Dr. Dar Radfar and others and will offer 8 CEs. Topics to be covered at the event include: home sleep testing, taking the right bite, medicare model for treating sleep apnea, working with physicians, medical billing, office protocol, importance of chart notes and how to earn large profits treating sleep apnea.
Mr. Gergen has recently been involved in creating a network of dentists not only in Arizona, but across the country to work with local NFLPA chapters in providing sleep apnea treatment for NFL greats. Gergen says, "Any dentists interested in joining our network will have the opportunity to treat some of their sports heroes for sleep apnea and dental needs." To register for the seminar for only $495, call Chris Morrison at 623-879-6066. For more educational resources and to register for upcoming events with some of the top speakers in the country, visit http://asbadental.com
For more information about Pro Player Health Alliance email sfaulkner(at)proplayersleep(dot)com
About Pro Player Health Alliance
Pro Player Health Alliance (PPHA) is an organization dedicated to helping former NFL players, through providing testing and treatment options for those who suffer from sleep apnea. In addition, the PPHA is dedicated to integrating education and raising sleep apnea awareness, in a fun and memorable way. In addition to the campaign, the PPHA is dedicated to testing and getting people treated who suffer from sleep apnea. This has been stepped up by working though The Living Heart Foundation and its HOPE program sponsored by the NFLPA. The PPHA was created David Gergen, President of Gergen's Orthodontic Laboratories and Former NFL legends.
About David Gergen
David Gergen, CDT and President of Pro Player Health Alliance, has been a nationally respected dental lab technician for over 25 years. He received the award for "The Finest Orthodontic Technician in the Country" given by Columbus Dental in 1986. He also has been appointed Executive Director of the American Sleep and Breathing Academy Dental Division, a national interdisciplinary academy dedicated to sleep training and education with over 60,000 members. David rolled out of bed on December 4, 1982 and had his career "ah ha" moment. He knew he was going to be an orthodontic technician and he knew he was going to help people all over the country to help treat their sleep disorders in partnership with their dentists. He has worked for some of the pioneers in the orthodontic and sleep dentistry fields. He was the personal technician for the likes of Dr. Robert Ricketts, Dr. Ronald Roth, Dr. A. Paul Serrano, Dr. Clark Jones, Dr. Harold Gelb, Dr. Joseph R. Cohen, Dr. Rodney Willey, Dr. Allan Bernstein, and Dr. Thien Pham. One of his proudest achievements is receiving The National Leadership award for Arizona Small Businessman of the Year in 2004.