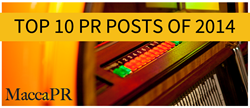 If you're a marketing, corporate communications, social media or PR professional (and who isn't?), you need to subscribe today to the MaccaPR blog.
MINNEAPOLIS (PRWEB) December 30, 2014
The MaccaPR blog produced by Maccabee, the Minneapolis-based public relations and online marketing agency, is dedicated to inspiring chief marketing and PR officers, corporate communications directors and marketing professionals. For more than two years, authors Paul Maccabee, Christina Milanowski and others have posted about all things marketing and communications to great success. MaccaPR was named one of the "60 Best PR Blogs in the World" by InkyBee and among the top 10 communications and PR agency blogs by Communications Degree Guide.
Recent MaccaPR blog posts have covered the secrets of YouTube marketing from Doritos, Disney and other brands; crisis communications flubs, insider tips on content marketing, media relations, how to market to women, use landing pages and search engine optimization; and insights for marketers from WestJet's viral Christmas Miracle, Evian's dancing babies and the creepy, crawly ad campaign from Orkin.
Among the dozens of blog posts in 2014, MaccaPR reports that readers resoundingly loved these 10 the most. Listed in no particular order, these received the most views and social media shares of all posts:
1. Is it website or Web site? A Social Media Grammar Lesson from the AP
2. 7 Lessons From A Brand Battle: Bose vs. Beats By Dre Headphones
3. Become Epic with Content Marketing: Interview with author Joe Pulizzi
4. Was Ellen's Oscar Selfie Worth $1 Billion to Samsung?
5. Should Trademark Symbols Be Used in Social Media Posts?
6. R.I.P. For PR Spin: Ethics, Public Relations and The Imminent Death of 'Spin'
7. 7 Social Media Trends in 2014 Live from Social Media Marketing World
8. 9 Travel Marketing Campaigns That Will Make You Laugh
9. 5 Eye-Opening Lessons From "Epic Content Marketing"
10. 4 Marketing Secrets for Viral Guinness World Records
View these and other popular public relations blog posts at http://www.maccapr.com. If you're a marketing, corporate communications, social media or PR professional (and who isn't?), you need to subscribe today to the MaccaPR blog. Each post brings you marketing lessons drawn from brands like General Mills, Target, Procter & Gamble, Beats By Dre, Dove, Mentos, Apple, Samsung, Kmart, Verizon, Ben & Jerry's, Burger King, Charmin, Southwest Airlines and Under Armour.
ABOUT MACCABEE PUBLIC RELATIONS
Thrice-named one of Minnesota's "100 Best Companies To Work For," Maccabee is a strategic public relations and online marketing agency providing clients with exceptionally strategic and creative media relations, social media strategies, inbound/content marketing and corporate communications counsel from its headquarters in the Warehouse District of downtown Minneapolis. Learn more about Maccabee at Maccabee.com and MaccaPR.com, and find us on Facebook, Twitter, LinkedIn, YouTube and Pinterest.