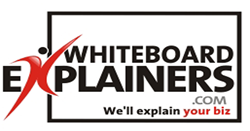 (PRWEB) December 29, 2014
WhiteboardExplainers.com now offers a free, comprehensive PDF guide that visitors can download in order to know what explainer videos are used for, step-by-step details, do's and don'ts, strategies and tips of how to use an explainer video to gain a competitive advantage for any company. In fact, The Ultimate Guide to Successful Explainer Videos showcases all the astounding benefits that an explainer video can give any company trying to explain its' product or services in a more efficient manner already used by Google, Dropbox and Coca Cola.
As its name suggests, an explainer video explains to a given audience using animation, narration, and text about any given topic. It explains everything in plain, unambiguous language, factual charts and graphs in a very engaging manner. It increases awareness of a marketing campaign or a promotional stunt in ways that a commercial never could, because an explainer video is more direct to the point and says things straight to the viewer of the video.
If one wishes to to tell the whole world of his products and services, then explainer videos are a collectively streamlined and dependable method of message delivery in this front. It showcases to business partners why they should do business with a given company as well as highlights to actual customers what's in it for them. In essence, explainer videos are moving infographics tailored specifically to spin a yarn, tell a tale, and spread a message in a manner far more direct than a commercial ever could.
The guide also explains how a commercial isn't as direct, concise, and to the point as an explainer video, which works to a given client's advantage because his marketing message or intention to inform and educate won't be muddled with attempts to entertain an audience (or at the very least catch their attention, since commercials have always been ignored with a click of a button). The WhiteboardExplainers.com guide also showcases why explainer videos are regularly used as guides themselves, like when explaining to the average layman what content excellence is all about as used by The Coca-Cola Company.
The whiteboard explainer video package now includes a comprehensive guide to explainer videos that allows clients to customize their presentations and explainer videos in such a way that's more relatable to their customers. No longer will customers be confused about what explainer videos are for exactly and how effective they are in doing what they're supposed to do, which is to explain topics unambiguously. With the PDF guide on hand, visitors should easily realize the benefits and advantages of having an explainer video, particularly the really good ones that draw viewers in and tell great, compelling stories while educating people at the same time.