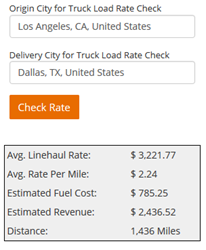 "Users want more accurate data and tools that they can access and use anytime and anywhere."
Los Angeles, CA (PRWEB) December 29, 2014
The trucking market is often moved by fluctuating demand, trucking asset capacity and changing fuel prices. ComFreight has continued to expand it's tools to help the users of it's freight marketplace and load board web app succeed in their day to day business activities.
Getting a clear snapshot of what trending trucking market rates are for specific freight lanes are at specific times helps carriers, truckers or owner-operators and freight brokers more accurately determine pricing and costs for their operations. Supporting this need ComFreight has expanded their rate index tool to include average rate per mile, estimated fuel costs, estimated gross revenue and estimated route miles. These updates are being added to the newly expanded rate index tool to help current and future carrier and broker subscribers at no additional charge. The feature is in live beta and is constantly being improved.
Trucking market rate visibility is one of the most powerful metrics that a trucking or logistics company can use to help them make better decisions for their day to day business and can often effect their pricing and rate strategies. Because of the great importance of this data, ComFreight is continuing to make this one of it's main areas of expansion and improvement. "Users want more accurate data and tools that they can access and use anytime and anywhere," said Steve Kochan, CEO of ComFreight.
Because ComFreight is a web app users can access and use all of it's tool without having to install or download software or apps to their devices. A web app is basically a website that works like a mobile app when the site is accessed from a smart phone or a tablet. "We believe in putting the power of the full suite directly in the hands of our users, whether they are accessing the web app from an office desktop computer or checking rate data or bidding on a shipper load from their smart phone when outside the office or parked at a truck stop," said ComFreight CEO Steve Kochan.
ComFreight is combining the power of a load board with aspects of a freight marketplace and market data tools to create a web app to help drive business for all users of it's platform. More updates to the technology and software as a service platform are promised for 2015 in order to continue to deliver more advances and tools for the trucking and logistics industry.