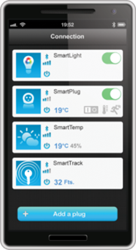 Marseilles (PRWEB) January 02, 2015
2015 New products displayed at Las Vegas CES
All BeeWi accessories use wireless Bluetooth technology, Low Energy (Bluetooth Smart). This technology couples an improved management of the power consumption of the devices with an operating distance from 30 to 50 meters.
Four new models of bulbs
BeeWi develops its range of connected lamps with four new models :
These products will be available during 2015 first quarter, and will be the most important range of connected lamps on the market.
Smart Plug with Energy Saving function
This plug allows to switch on, off and to program any electric device plugged to it, thanks to SmartPad, set on your smartphone or your tablet. The uses of this technology are numerous : electric heaters, TV sets, lamps ; everything can be controlled through this small box. This plug can also give the electric consumption of a connected device, whenever you want.
This product will be available on the 2nd quarter of 2015
Smart Gateway (BEG200) and Smart Gateway Mobile (BMG200)
In order to connect all these products, the communication gateways Smart Master Ethernet and Smart Master Mobile offer a remote access to all these devices from the same web interface.
Using BeeWi SmartPad WEB, you can get informations about your home, program and control the different BeeWi accessories already set – in real time- whether you are working, or on holidays or just far from home.
Smart Gateway (BBG200)
This small box can easily be set on any ADSL routeur, just by connecting it to an available Ethernet port and on a USB port (for power). Once connected, the user will be able to remotely control the accessories set at home via BeeWi SmartPad WEB.
BBG200 automatically sets a Bluetooth connection with the different accessories in the house.
This product will be available during 2015 first quarter.
Smart Gateway Mobile (BMG200)
This plug, looking like the Smart Plug, is equipped with temperature and motion sensors, and a Bluetooth Low Energy module, a battery but also a GPRS module for remote control (SIM card included)
In addition to its gateway function (like BBG200), BMG200 can be used alone, as a small alarm and home automation central. The available functions are :

Detection of a power failure. Warning by email or SMS
Motion detection.. Warning by email or SMS
Rise of temperature
Remote control of the ON/OFF function of the plug
Creation of scenarios according to temperature, movements….
BMG200 is particularly fitted for holiday homes, mobile homes, pleasure boats…
This product will be available on the 2nd quarter of 2015
A single application to run your connected home thanks to BeeWi
BeeWi has created an application, SmartPad, to run all the connected accessories for home automation.
Free and available for the 3 OS (IOS, Android and Windows Phone), SmartPad gathers all the necessary functions to run your home in one single application:
Adjust the intensity and color of the lights
Control the temperature and check the history
Control the humidity and check the history
Switch on and off, program any electric device connected to a SmartPlug
Find your keys, your smartphone, your tablet
Take a selfy
In early 2015, the http://www.beewi-home.com server will be available and will make it possible to run all the BeeWi home automation devices remotely.
About Beewi
As an expert, BeeWi democratises access to Wireless technologies, in order to set them at the very heart of our everyday life, to ease communication between terminals and enjoy the best of multimedia contents : music, movies.. BeeWi products are spread in three ranges : Smart Toys, Smart Audio and Smart Home.
BeeWi capitalises on the latest Wireless technologies and offers simple, innovative, designed and affordable products for all. These values are at the origin of the creation of BeeWi and are strongly promoted by its founder, Thierry Dechattre.
For further information on BeeWi : http://www.bee-wi.com
________________________________________
Contact
Peggy Jacoulot
00 33 4 88 00 61 23
pjacoulot(at)avenir-telecom(dot)fr