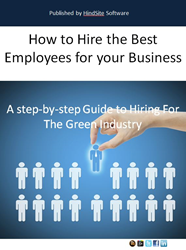 Employees are the heartbeat of the business, without them the business would surely sink.
St. Paul, MN (PRWEB) December 31, 2014
HindSite Software, the leading provider of green industry software, today announced the release of a new eBook, How to Hire the Best Employees for your Green Industry Business. With the improved economy, many green industry businesses are increasing their hiring efforts, and the new eBook aims to help them find great new hires.
The purpose of the eBook is to deliver an easy-to-follow hiring plan to help green industry owners decrease their turnover, grow their business and achieve that moment where they can be 100% focused on customers because they know that their team is a well-oiled machine.
Owner of HindSite and 20-year owner of a landscape irrigation business, David Crary explains his own rules for hiring and how it has helped him grow tremendously. "Employees are the heartbeat of the business," Crary says, "without them, the business would surely sink. In this eBook, we set out to help business achieve high growth by finding great employees."
Some key insights in the eBook include:
1. Identifying who exactly you are looking to hire is much like identifying a target buyer. Be specific and don't settle.
2. Your core values should be at the center of all that you do in the business, especially when hiring.
3. There are three crucial steps to interviewing, take the time to do all three will determine how successful your new hire is.
The eBook was written with the understanding that customer service is the key to a successful green industry business. Having a full grasp on the importance of hiring and taking action on these steps will ultimately lead to a smoother performance and happier customers.
Visit http://info.hindsitesoftware.com/hire-for-the-green-industry to download the eBook.
About HindSite Software
HindSite Software has helped contractors better manage and grow their business with field service software since 2001. Designed by an irrigation contractor, HindSite assists service businesses with scheduling, contact management, field data collection (e.g. mobile field service software), and invoicing in QuickBooks®, Sage Peachtree®, and Simply Accounting®. This paperless work order management software has been proven to increase efficiency and organization, meaning greater profit potential with less administrative time.