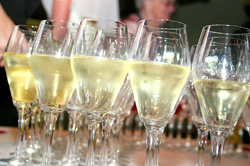 Chill it, don't shake it and have a wonderfully sparkling New Year's Eve.
(PRWEB) December 29, 2014
Now that Christmas is a memory, savvy wine buyers are stocking up for New Year's Eve. Jim Hammond, the Southwestern Wine Guy, suggests it's not too late to stock up on great bargains in Champagne and sparkling wines.
The Champagne Tradition
Champagne has long been associated with opulence, and the producers labored long to make their sparklers synonymous with celebrations. Few celebratory events can equal New Years as most people use the same calendar and universally welcome the New Year as a special event.
Sparklers Anyone?
Hammond observes that Champagne is a trademark that is limited to the Champagne region of France. Most wine makers of sparkling wines have honored this prior to the legal requirement in 2006. The best sparklers perform the second fermentation in the bottle (aka: method Champenoise), which yields finer bubbles and a frothy mousse.
Other regions of France make wonderful sparklers, often identified as "crémant" as in Crémant de Bourgogne for sparkling wines of Burgundy. Spanish Cava is another good choice, such as Freixenet, which offers several choices besides the popular black bottle most stores carry. In Germany and Austria, sparklers are called Sekt, while in Italy one looks for wines with Spumante.
For domestic versions, he notes that Washington State offers many good choices, including Domain Ste. Michele from Chateau Ste. Michele, the state's largest and oldest winery. In New Mexico, Gruet tops the must have list. In California, producers are divided between domestic providers and Champagne houses, such as Moet et Chandon.
Hammond offers selections fit for any holiday party in his Dec. 28 Examiner.com article, What is a New Year's Eve Party Without Sparklers?
As Hammond states it; Chill it, don't shake it and have a wonderfully sparkling New Year's Eve.
About The Southwestern Wine Guy
Jim Hammond covers New Mexico wines in a wine blog (SouthwesternWineGuy.com/blog), and he also offers news and insights as the "Albuquerque Wine Examiner" on Examiner.com. He is a wine columnist for ABQ Free Press and provides wine and beer pairing ideas to go along with featured recipes in New Mexico Magazine. Hammond is available to speak on New Mexico wines and also provide creative seminars or events to help people understand and appreciate New Mexico wines as well as wines of the world. Contact him at jim(at)southwesternwineguy(dot)com or visit his website, SouthwesternWineGuy.com. The Southwestern Wine Guy is active on Facebook, Twitter (#SWWineGuy) and LinkedIn.